Performing as a Pianist in London and the Southeast
Hi, my name is Eugene Portman and I work mostly as a pianist in London, Sussex, and other areas of the Southeast. This is mainly because I live in Horsham, West Sussex, and work usually grows from the area where you live. My work has enveloped the neighbouring counties and I am now a regularly play the piano in Essex, Kent, Surrey, Hampshire and other areas further afield.
Please click play on the above Youtube video and make sure that you have your speakers turned up!
My real roots are in Yorkshire and this is where I first started learning the piano at the age of seven. This was with a great piano teacher called Brendan Murray, who was a great inspiration to me and nurtured my love of music. First of all, I studied the classical piano and I practiced all my Bach Partitas and Chopin Etudes like a good boy. But, when I hit fourteen years of age I developed a keen interest in jazz and my taste in music started to broaden. When I was eighteen I moved down to Bognor Regis in Sussex and this is when my career really started. After a short spell in Sussex, I moved to London where I enjoyed my work as a pianist and I thrived on the hurly-burly of city life. Living in London made it possible to make jazz the mainstay of my work. However, I have always kept my options open and I have always experimented with many different genres of music.
Where I Perform as a Pianist
After working as a pianist in London, I moved to Surrey and finally moved to Horsham in West Sussex where I live at the moment. My location in Horsham makes traveling to London incredibly easy and I don't really know why more musicians live in this area. I have about fifteen minutes to walk to the nearest railway station. Furthermore, I can take a Digital piano on the train quite easily and I don't even have to bother with the congestion charge. To be honest, I hate driving into London and I always dread the parking situation when I get there. I'm sure that there are other pianists who do the same thing when traveling to London.
I have a completely different outlook on traveling in other areas of the Southeast and I travel by car when working as a pianist in Essex, Kent, Surrey, Sussex, Hertfordshire, and Hampshire. Traveling by car enables me to take a digital piano and amplification to venues with ease.
The areas I've mentioned are where the bulk of my work lies. However, I am always happy to travel further afield and always enjoy traveling to my home county of Yorkshire.
Here are some of the venues that have used my services as a pianist: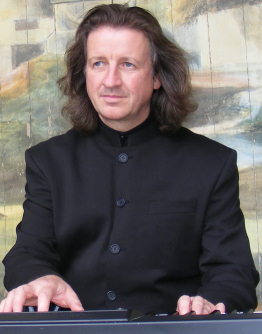 Dartmouth House 37 Charles Street, London. W1J 5ED
Stock Brook Country Club, Queen's Park Avenue, Stock, Nr Billericay, Essex CM12 OSP
Spinnaker Tower Gunwharf Quays, Portsmouth, Hampshire PO1 3TT
Arundel Town Hall, Maltravers Street, Arundel, West Sussex BN18 9AP
Orsett Hall, Prince Charles Avenue, Orsett, Essex RM16 3HS
Leeds Castle, Maidstone, Kent ME17 1PL
Altitude 360°, 29th Floor, Millbank Tower, 21 – 24 Millbank, London SW1P 4QP
Denbies Vineyard London Road, Dorking, Surrey. RH5 6AA
Amberley Castle Hotel and restaurant, Amberley, Nr Arundel, West Sussex BN18 9LT
The Crown Inn, 8 High Street, Emsworth, Hampshire PO10 7AW
Brocket Hall, Welwyn, Hertfordshire, AL8 7XG
Spains Hall, The Stables, Finchingfield, Essex CM7 4NJ
The Pigalle Club, 215-217 Piccadilly, London W1J 9HN
Weddings and Events
You wouldn't believe the different types of events that I have provided music for during my career. Yet weddings (especially in London and Essex) seem to be the most numerous and there never seems to be a week that goes by when I am not called upon to perform as a pianist for some happy couple. My extensive repertoire enables me to play piano music that is suitable for each part of the wedding day. Couples often wish to have different styles of music for each part of their big day. For instance, classical music is really popular for ceremonies, while jazz and swing are often requested for drinks receptions. I love jazz and blues, but in order to play for weddings I need to be more versatile than this. My piano playing covers many genres and styles of music including rock, Latin, pop, classical, and even singalong.
If you would like to find out more about choosing music for your wedding then please visit the wedding page for more information.
The Music
Due to all the work I've done around London as a cocktail pianist, many people would say that my natural piano style isn't really jazz, but cocktail piano. I'll admit that I'm no modernist, preferring the piano styles of the older school of pianists such as Oscar Peterson and Erroll Garner. Furthermore, I like good tunes such as all the great songs written by Cole Porter, Jerome Kern, and George Gershwin. The music I play is indeed suitable for cocktail parties, but I can turn up the heat if needed.
I've talked a lot about jazz so far, but as I've mentioned earlier my involvement with weddings and singalong events has pushed me to extend the boundaries of my repertoire somewhat. In order to find out about the many styles and genres I play, please visit the following pages Pop and Rock, Classical Pieces, and Other Songs.
Performing as a Sing-along Pianist in and around London
They always say"What goes around, comes around", and that is definitely true about the traditional singalong pianist. There was a time when most pubs had pianos and the strains of old-fashioned music hall songs could be heard as you walked through the streets of the capital. However, all this died out, but it's all coming back. London was where my very first singalong gig as a pianist was and since then the trend has spread to Essex, Kent, and the rest of the South East.
When I play the piano for these events I provide all the song sheets and I dress like an old-fashioned Cockney pianist. This type of thing has become sought after for all kinds of events, even very formal ones. Please see my Singalong Page for more information. Alternatively, visit my singalong website.
Please note that I am always willing to learn any requests that you may have.
If you would like to hear me play; you will find free MP3s of me HERE and you can also see my Youtube Videos Here.
Jazz Trio and Quartet
Most of the work I do in London is as a solo pianist, but I can offer larger line-ups than this.
Most weddings and other events have a disco or function band in the evening. However, if you are looking for something a little bit different then why not try a jazz band? I can provide a trio or quartet consisting of piano, bass, and drums or piano, bass, drums, and sax. Furthermore, you can plug your Ipod, phone, or laptop into my system at the end of the evening to round everything off with dance music of your choice.
How Much?
Prices are from £270 for me as a solo pianist. Of course, the price is dependent on the distance to the venue and the length of the performance. In order to get a quote please either fill in the Quote Form, Email, or telephone 07391 472474.
No Piano? No Problem
There are very few venues with pianos in London and the South East, which means that pianists have to take their own instruments with them. Many years ago this was impossible, but with the introduction of digital pianos, this has become a reality. Over the last thirty years, they have greatly improved in quality and they are now superior to most pianos that you would find in any venue. All the music on this site was recorded on a digital piano and I'm sure that you would agree that the quality of the sound is outstanding.
If you are looking for something more like a baby grand piano and less like a keyboard then see below.
Baby Grand Piano Shell Available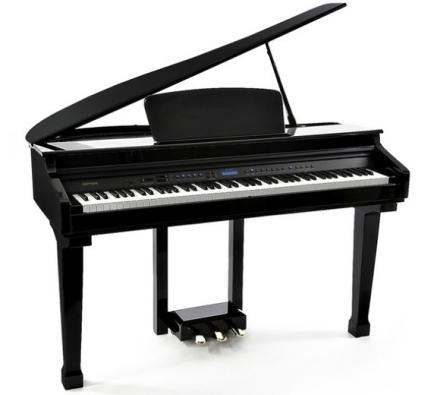 Some events seem to need something a little more visual than a keyboard on a stand. This is where my baby grand piano shell comes into it's own. It only costs a further £80 on top of my normal fee. This is much cheaper than hiring a grand piano and it really does look the part.
There are many pianists who can provide a piano shell, but I'm not sure how many can provide this service in central London. In order to provide a grand piano shell I really need to be able to park my car next to the venue and this is often impossible in many urban areas. Venues that have their own parking are no problem at all.
Please visit the Grand Piano Shell Page for more information.