Performing as a Pianist and Jazz Band in Berkshire
Berkshire is virtually on my doorstep and provides me with plenty of opportunity to perform both as a solo pianist and in larger line-ups. I can provide anything from a duo (piano and vocals or piano and bass) right up to a five piece jazz band.
Weddings and Events
Berkshire is one of the home counties and is very popular for weddings. It is as a wedding pianist where the bulk of my work lies and I can provide music for every part of your special day. I also provide music for other types of events including: private parties, festivals, store openings and croporate events. When it comes to outdoor events I can provide a gazebo and I can even set up my digital piano and PA system without a mains power supply.
The Music
A large proportion of my work in Berkshire is as a jazz pianist. Although I am a keen jazz lover, the music I play isn't highbrow and above all, I try and make it entertaining. My influences are pianists such as George Shearing, Erroll Garner, and Oscar Peterson. As well as playing jazz and swing I also play music from many other genres including pop, rock, Latin, and classical. I try and make sure that my music will add sparkle to your event, without drowning conversation.
Apart from the genres of music I've mentioned so far, I can also play old fashioned sing-along songs where I also provide song sheets. Please see Singalong Page or visit www.uksingalongpianist.co.uk for more information about this.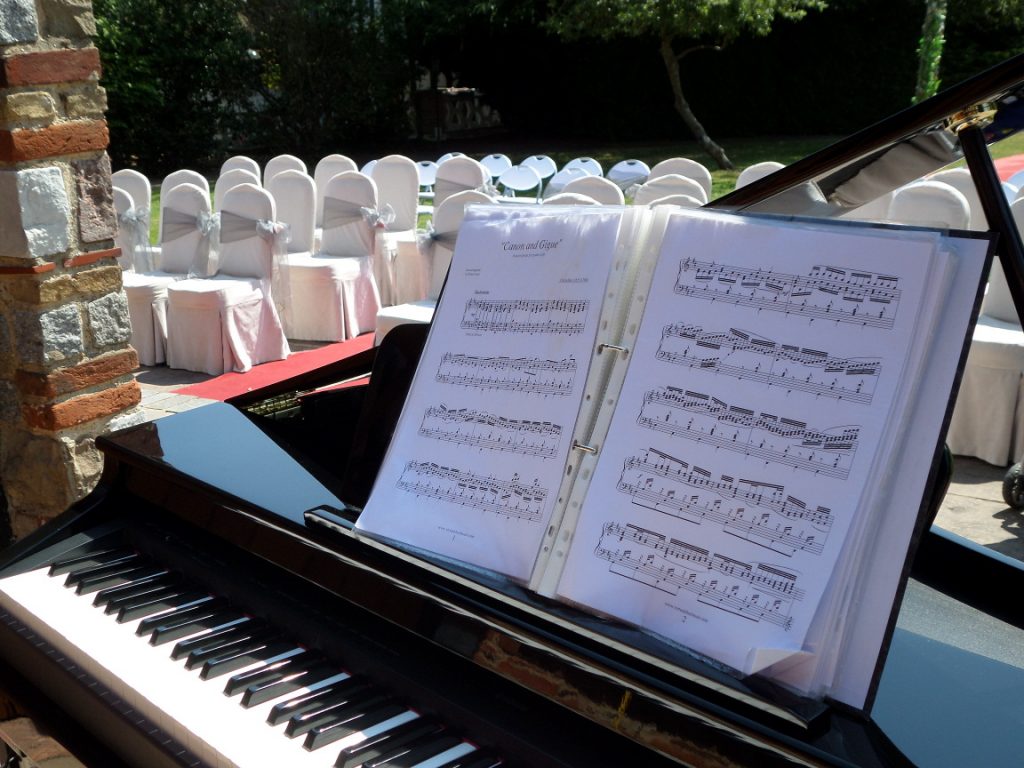 Here are some of the Berkshire venues that have used my services as a pianist:
Berkshire Golf Golf Club, Berkshire, Swinley Road, Ascot SL5 8AY
Queens Eyot, Eton College, Bray, Berkshire SL4 6DJ
Sunningdale Park, Larch Avenue, Ascot L5 0QE
Swan Hotel (The), High street, Streatley, Reading, Berkshire RG8 9HR
Vineyard at Stockcross (The), Stockcross Newbury RG20 8JU
Aldermaston Manor Hotel, Church Road, Aldermaston, Berkshire RG26 3AZ
Carnarvon Arms, Winchester Road, Whitway, Burghclere, Newbury RG20 9LE
Mapledurham Estate, The Estate Office, Mapledurham, Reading RG4 7TR
Elcot Park Hotel, Elcot, Newbury, Berkshire RG20 8NJ
Fredericks Hotel Restaurant Spa, Shoppenhangers Road, Maidenhead SL6 2PZ
Northcote House, Sunningdale Park, Larch Avenue, Ascot SL5 0QE
Royal Windsor Racecourse (The), Maidenhead Road, Windsor, Berkshire SL4 5JJ
Please visit Eugene's HOME PAGE HERE
Please explore this site by clicking the links on the left of this page.
Available as a jazz pianist/wedding pianist in Berkshire, Reading, Bracknell, Maidenhead, Newbury, Windsor or Wokingham.