Performing as a Pianist in Berkshire
I've performed as a pianist in many of Berkshire's wonderful venues. Furthermore, and there are still many more to visit. Being one of the home counties, Berkshire attracts a lot of business from London based couples. Mainly those wishing to marry away from the throng of city life. It is due to this fact that most of my visits to Berkshire have been for weddings and this has taken me to many great venues in the area. In addition to these weddings, I've also done more than my fair share of private parties and corporate events.
From a Solo Pianist to a Jazz Band
While a lot of my work in Berkshire is as a solo pianist, work in larger line-ups seems to be on the rise. I can provide anything from a duo up to a five-piece jazz band consisting of piano, bass, drums, sax and vocals. Having this flexibility means that it is easy to find a line-up that will fit both your budget and available space at your chosen venue.
Whether you chose to book me as a solo pianist or one of the larger line-ups – I will try and make my music be entertaining and add sparkle to your event. I will also do my best to ensure that the music doesn't drown out conversation.
The Music
Over the years the bulk of my work in Berkshire has been as a jazz pianist. I originally trained as a classical pianist, but I developed a great love of jazz many years ago. Moreover, my style of piano playing has developed by listening to the great jazz pianists of the past such as Oscar Peterson, Erroll Garner, George Shearing, and Teddy Wilson. I try and make my music entertaining and I play all the songs that we all know and love.
Besides jazz I also play play music from many other genres such as: rock, pop, Latin, classical and even singalong. Music from many genres can be heard throughout my site.
A fairly recent trend in the Berkshire area has been to book me as a singalong pianist for Cockney style events. These are great fun and I provide all the song sheets so that all you have to provide are some hearty voices and a little bit of enthusiasm. See this page for more information or visit my other website at www.uksingalongpianist.co.uk.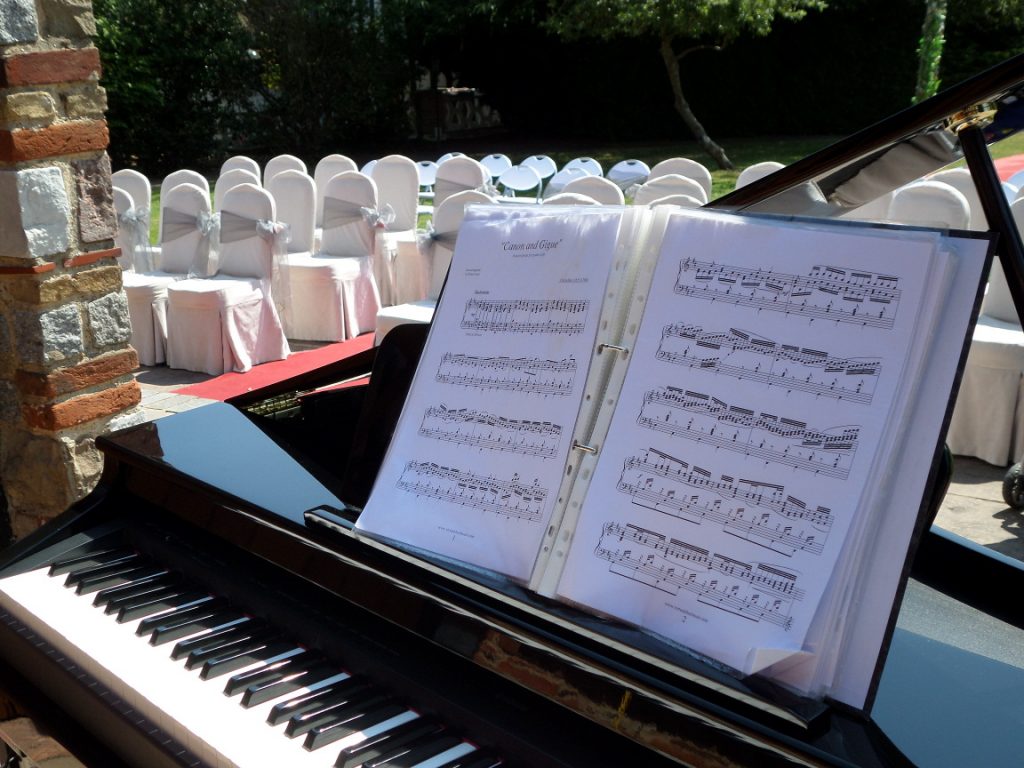 Here are some of the venues in Berkshire where I have performed both as a pianist for events and as a wedding pianist:
Elcot Park Hotel Elcot, Newbury, Berkshire. RG20 8NJ
Rising Sun – High Street, Hurley, Berkshire SL6 5LT
Cantley House Hotel, Milton Road, Wokingham, Berkshire RG40 5QG
Ye Olde Bell Hotel – High Street, Hurley, Maidenhead, Berkshire SL6 5LX
Carnarvon Arms, Winchester Road, Whitway, Burghclere, Newbury,Berkshire RG20 9LE
Reading Town Hall = The Town Hall, Blagrave St, Reading RG1 1QH
Queens Eyot, Eton College, Bray, Berkshire SL4 6DJ
Bird in Hand – Bath Road, Knowl Hill, Reading, Berkshire RG10 9UP
Fredericks Hotel Restaurant Spa, Shoppenhangers Road, Maidenhead, Berkshire SL6 2PZ
Please visit my HOME PAGE HERE
Please explore this site by clicking the links on the left of this page.
You can hire me as a jazz pianist in Berkshire Reading, Bracknell, Maidenhead, Newbury, Windsor and Wokingham. The music is ideal for weddings, receptions, dinners, and corporate events.