Performing as a Pianist in Birmingham
My name is Eugene Portman and my work as a pianist in Birmingham is on the increase. There are many great venues in the area and I have played the piano in many of them over the years. The range of venues is wide and varied and the region is absolutely ideal for anyone organising an event or wedding. I play the piano for many different types of events in Birmingham, but weddings are what usually brings me to the area.
Weddings, Events and Line-ups
Most of my bookings in Birmingham are for me as a solo pianist. But I can also provide a variety of line-ups. These range from duos right up to a five-piece jazz band. Here is the full range of line-ups I can offer:
Duo – piano and bass
Trio – piano, bass, and drums
Quartet – piano, bass, drums, and sax
If you contact me I can help you choose a line-up that matches both available space at the venue and your budget.
The Music
There is a very healthy jazz scene around Birmingham and my work as a pianist has benefitted from this. I love jazz and my piano style has evolved by listening to the great pianists of the past. These pianists include Teddy Wilson, Oscar Peterson, and Erroll Garner.
However, playing jazz is not enough if I'm going to provide music for all types of events. Luckily, over the years I've immersed myself in many musical styles including pop, rock, Latin, blues, classical, and sing-along. The fact that play many different genres, is the main reason that I am booked for so many weddings. I can play music that fits every part of the wedding day from the ceremony right through to the evening reception.
I try and make my music accessible by everyone and above all I try and make it entertaining. This applies whether I'm performing with the band or just performing in Birmingham as a solo pianist.
Working as a Sing-along Pianist in Birmingham
A recent trend has led to me being booked as a sing-along pianist in the Birmingham area for events, even weddings. The events that sort this sort of thing tend to be Wartime events and Peaky Blinders evenings, as well as general sing-along nights in pubs. When I perform at a sing-along event I provide all the song-sheets and I also dress like an old fashioned Cockney pianist.
Please see Singalong Page for more information. Alternatively, visit my other website HERE and find out if I'm playing the piano at any public events in the Birmingham area.
Baby Grand Piano Shell
There aren't many venues that have pianos and most pianists performing in the Birmingham area use digital pianos. I'm a big fan of digital pianos as they sound great and they are always in tune. Furthermore, they can be set up anywhere and even moved from one room to another during an event. However, there is one small snag in that a lot of people like to see a real piano rather than a keyboard on a stand. I have the answer with my baby grand piano shell. This is a shell in the shape of a grand piano that houses a normal digital piano. The whole thing looks good at any event and makes a wonderful centrepiece.
I charge an extra £80 on top of my fee for the use of my baby grand piano shell and it can be set up anywhere. Please see the baby grand piano shell page for more information.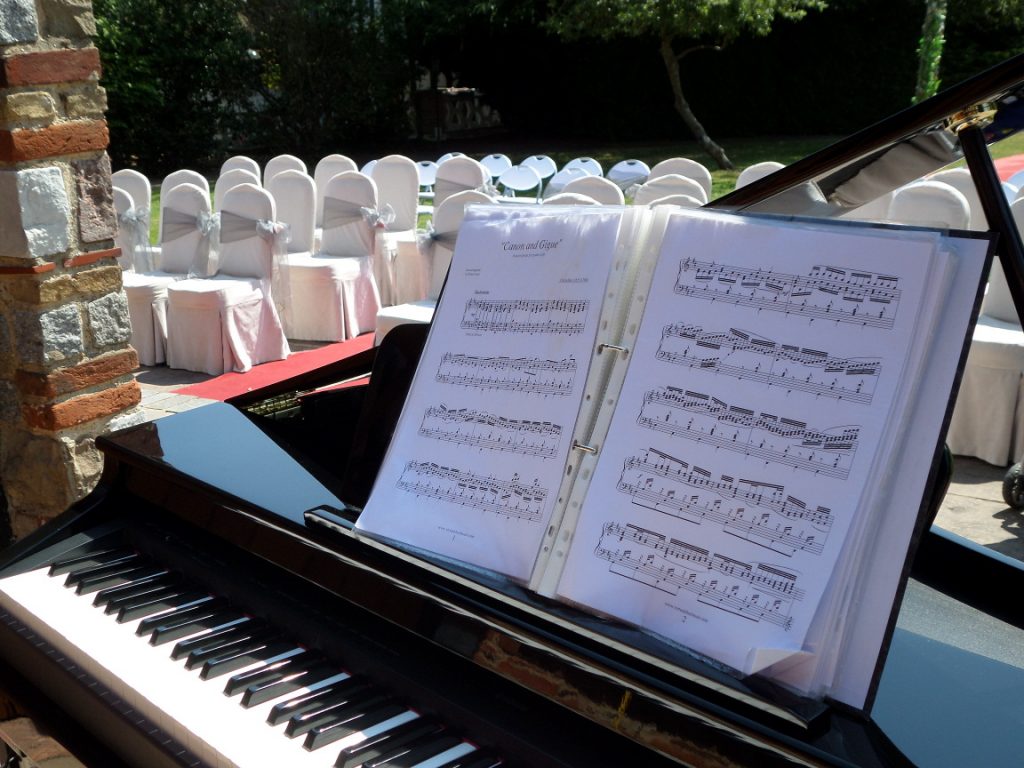 Please visit Eugene's HOME PAGE HERE
Please explore this site by clicking the links on the left of this page.
Here are some of the venues in Birmingham where I have performed as a pianist:
Gala Casino Birmingham. They have a nice grand piano at this venue and I have played the piano there quite a lot.
Gala Casino Wolverhampton. A popular casino in Woverhampton.
Hilton Coventry Hotel – This is a very popular venue for weddings. Furthermore, I have played the piano here on quite a number of occasions.
Hotel du Vin & Bistro Birmingham. This venue is available for all types of events ranging from private parties to weddings.
Hyatt Regency Birmingham – A large hotel in the centre of Birmingham and it is very popular as a wedding venue.
Available as a jazz pianist/wedding pianist in Birmingham and the rest of the UK.