Music for any corporate event, conference or store opening
Music for corporate events in Essex, Kent, Surrey , Sussex and other areas of the UK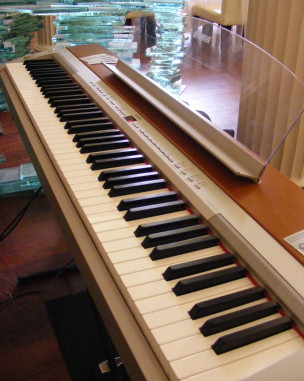 What if the venue doesn't have a piano?
In situations like this I usually bring one of my digital pianos which can even be used outside. My digital pianos are ideal when playing for events that require music in more than one location. I can usually relocate and set up within twenty minutes or set up piano in one location and set up another somewhere else. If I set up two pianos I can just move from one to the other without a there being too much of a break in the music. Please note that I don't charge any extra for bring a digital piano with me to an event.
Does a digital piano sound as good as a proper piano?
It does depend on the quality of the proper piano that you are comparing the digital piano with. A digital piano is nearly always better than the piano that you will find at a venue. You can hear the quality of the instrument I would bring by listening or downloading the music on this site.
Does a digital piano look like a normal piano?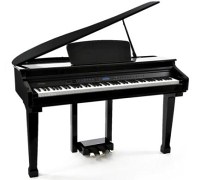 No, it doesn't but it definitely does look neat and tidy. Please see picture on the top of the page.
II have a baby grand piano shell available for hire if you are looking for something that looks more like a normal piano. Click HERE for more information.
How much space do you need?
As a solo pianist, using my digital normal piano, I can fit into the tiniest of spaces – a space of 1 metre X 1.5 metres being more than adequate. As a duo (piano and bass or piano and vocals) we would only need an additional 1 square metre which brings the performance area needed up to a meagre 1 metre X 2.5 metres. Space for larger line ups takes a little bit more working out as the musicians can be placed in a line or any number of other formations.
If we hire a bass player will he play a proper bass?
No offence to bass guitar players, but most people refer to a double bass as a proper bass. The bass players I use (mainly Mike Porter-Ward) always play a double bass which you can see in the photograph on the top of the page.
Will it be noisy if we have a drummer in the line up?
No, the drummers I use (usually Roy Jackson or Rod Brown) are skilled jazz drummers and are capable of playing very quietly. They are also masters of the long lost art playing with brushes which is ideal for background music. Also, the drum kit that they use is different from that of a rock drummer – one of the key differences being the diminutive size of the bass drum. A jazz kit does not produce anywhere near the same volume level as a rock kit.
What Happens When You Take A Break?
This isn't usually a problem as I usually have a CD player or MP3 player with me which I can plug into one of my compact PA systems.
Can you send us a playlist?
I don't usually work from a playlist. I prefer to pick the songs I am going to play at the time of the performance. This enables me to select material that matches the mood and the ambience of the event.
You can see a lists of the songs I play on the repertoire pages.
Do you need some sort of cover if you are playing outside?
Protection from the elements is vital. The heat from the sun can be very harmful to electronic equipment and a sudden downpour could be disastrous. I can provide a gazebo for outside protection which is more than adequate for most situations.
Is it necessary to meet up with you before the event?
This isn't necessary as nearly everything has to be sorted out on the day of the event. No meeting beforehand can really help with the decisions that have to be made on the day. Music for ceremonies and other requests can usually be sorted out by email or telephone.
So How Much Will It Cost?
Prices are from £250 (for me as a solo pianist) depending on distance from venue and other requirements. Please contact me for a quote for your individual requirements.
How do I secure the booking?
After I've given you a quote and presuming that you have decided to go ahead with the booking: I'll send you a contract. In order to send you this contract I need to make sure that I have all following information:
The type of event (Wedding, engagemant party, corpoorate dinner etc.)
The date of the event
The address of the venue including postcode
The line up (piano and bass, solo piano etc.)
A start time and a finish time
A contact number for if I have any queries
On the day emergency contact number (best man's mobile or similar)
Dress code (lounge suit, black tie etc.)
Any other requirements (music for ceremony, gazebo, radio microphone for speaches, extra long extension lead etc.)
I'll then usally send you the contract by email and then you can either sign the contract and post it back to me or confirm on line by clicking on the link included in the email.
Do you take a deposit?
Yes I do. After the contract has been signed and returned or confirmed on line, I'll send an invoice for a depoisit of approximately 33% of the full fee.
How do I pay the balance?
I'll send you an invoice for the remaining balance and you can pay on the day of the event by either cash, cheque or by BACs. I would, however, prefer the balance in cash if you are hiring me in a larger line up such as a duo, trio or band. This enables me to pay the musicians straight away – rather than making them wait for the cheque to clear in my bank, before paying them.
Is it OK to pay you beforehand just to get it out of the way?
If this is that's what you prefer then its OK with me.
Can I hear you play live?
Throughout the year I do play for quite a lot of events that are public, but they are mostly Cockney singalong events. These events wouldn't give you any idea of how I would perform at a wedding or corporate event. The weddings and corporate events that I perform at are obviously private and I can't invite people along to come and hear me.
What about Public Liability insurance?
I have public liability insurance for £10,000,000 provided by Hencilla Canworth. The certificate can be viewed or downloaded HERE (opens in a new tab).

Could I ask, in the interest of safety, that all children are kept out of the performance area. Also, they do like to twiddle knobs and press buttons which can make things very difficult for me.
Is your electrical equipment PAT Tested for safety?
Yes all my equipment has been tested by a qualified electrical engineer. It is customary for a venue to provide an Electrical Installation Safety Certificate (Periodic Inspection Report to NIC EIC standards) when requesting a PAT Test Certificate.
A PAT test certificate is not a legal requirement, but some venues like to see one. My PAT Test certificate proves that my power leads are tested for safety, but unfortunately it only provides half the story. There is no real point in me providing proof that my equipment is safe if the power supply provided by the venue isn't.
A venue should provide a power supply socket of the 13 amp type (to BS 1363). It goes without saying that all power sources should be electrically safe and conform to the HSE EAW Act 1989, and amendments thereafter. Copies of venue Electrical Installation Safety Certificate (Periodic Inspection Report to NIC EIC standards) should be made available upon request by law.
Electrical sockets in historic venues are frequently damaged or do not work. It is advisable to insist that the venue send you a copy of their Electrical Installation Safety Certificate.
If for whatever reason the venue cannot provide an Electrical Installation Safety Certificate (this would in actual fact be illegal), then I can do an 'on the spot' test. Firstly I would make a visual inspection of the socket making sure that it has been installed correctly and that there is nothing loose or damaged. After the preliminary inspection I would then use a professional socket tester which will give me either an 'OK' reading or give me a diagnosis of the problem. If the socket gives me an 'OK' reading, I would then plug something like a household light into the socket as a final check before plugging my keyboard or any other valuable equipment into the power supply.