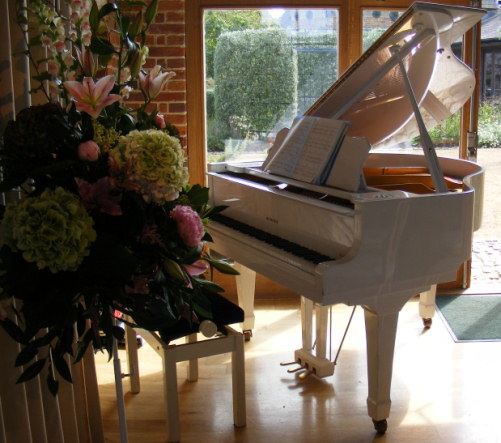 A pianist can provide all types of music for the various parts of the wedding.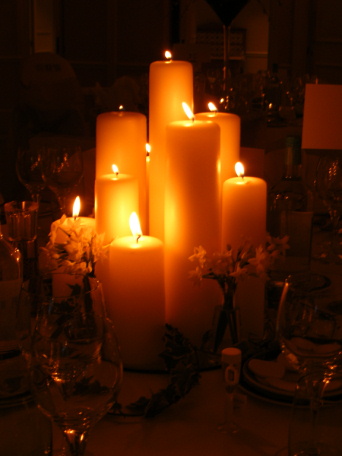 The Civil Wedding Ceremony
At one time I used to consider it a novelty if I had to play the piano for a wedding. Now, there seldom seems to be a week when I don't have at least two or three weddings to play for. The advantage of having a pianist is that they can provide the music for the ceremony, reception and meal.
It is common for couples to have a variety of music styles at their wedding. Before hiring musicians, make sure that they are happy with the various styles that you need. I trained as a classical pianist so traditional wedding music isn't usually a problem.
I have many phone calls from people who worry about their music choices for the civil ceremony. The ruling is that you can have any music you want, as long as the chosen pieces don't have any reference to religion. I talk to registrars on a weekly basis and there are many differences of opinion about what is permissible. There seems to be rules, but they appear to be at the mercy of the registrar's interpretation. For instance, most people consider "Ave Maria" and "Jesu Joy Of Man's Desiring" to be banned from the civil ceremony. Yet I have played both of these for civil ceremonies in the past.
Some registrars need to know what is going to be played for the ceremony well in advance while others just come over to me and ask me on the day. I've even had a registrar want to know what pieces I had planned for the gathering of the congregation – which is not really part of the ceremony at all. Please note that church ceremonies are much easier as you can have almost any type of music you want.
Most people like to choose music that means something to them and their partner, but I frequently find that couples worry about the ceremony and end up leaving the choice of music up to me. For a civil ceremony it is wise not to risk choosing "Ave Maria" and "Jesu Joy Of Man's Desiring" because they will more than likely be rejected. Later on I am going to give you some ideas of playlists that will definitely be accepted. Before the start of the ceremony there is usually some music played while everyone enters the room and sits down. This is usually refered to as "the gathering of the congretation". You don't have to worry about this bit too much as it is not really part of the ceremony.
Here are some guidelines for choosing music for your ceremony:
The civil ceremony has four main part's as far as a musician is concerned and they are:
1) The gathering of the congregation.
2) The Procession
3) The signing of the register
4) The recession
The gathering of the congregation.
The gathering of the congregation speaks for itself really – I just play music while people gather and seat themselves. This section doesn't really have a time span and it isn't necessary to choose music for this section. However, if a couple does select wedding music for this part of the ceremony, they must accept that either: I won't be able to play all of the chosen piece or pieces, or more frequently I will have to play extra music of my choice.
The Procession.
The next section is the entrance of the bride and traditionally this is carried out to Wagner's Bridal March. Although most people stick to Wagner; you can have any music you like. The one thing you must consider when looking for an alternative is that it doesn't take long for the bride to walk down the aisle – usually 15-30 seconds. Also, the music has to be something that can be brought to an end easily. A lot of couples go to great lengths to choose something very special for the entrance: only to find that I can only play a small snippet. I often recommend using the same music for the entrance as the signing of the register (see the playlist page). This usually ensures that you will hear your favorite piece of music in its entirety during the signing.
The signing of the register.
The signing of the register usually takes about 5 – 6 minutes and it is customary (but not essential) to have music that is calm and mellow. So if your favourite piece of music is only two or three minutes in length then you'll probably have to choose two pieces of music so that it will cover the 5-6 minutes. I suppose that if you did choose something that was too long there would come a point when I would have to stop playing but the piece would have to be excessively long.
The recession.
This is where everyone leaves the place of the wedding ceremony and traditionally this is carried out to Mendelssohn's Wedding March. In this day and age wedding couples seem to request everything but the Wedding March. Anything seems to be appropriate for the recession but most people seem to select something that is jubilant. The music is played for as long as it takes every one to leave the ceremony room (3 – 5 minutes). So as soon as the last person has gone; I finish.
Everything that I have mentioned above also applies to the civil partnership.
Please note that none of the above guidelines are written in stone. You can have something up-beat for the signing of the register and a slow ballad for the recession. As I said earlier, you can have any music you want, as long as the pieces you have chosen don't have any reference to religion.
Drinks Reception
That's it! The ceremony is over and you can start the celebration.
After the ceremony, everyone usually starts making a lot of noise. They have so much to say because they've had to keep so quiet throughout all the serious bit. I usually play through this part and I usually find that for once I don't have to worry about being too obtrusive.
The Wedding Breakfast
This is the bit where I provide the entertainment while everyone is eating and chatting. Most of the time I just go with the crowd: playing mellow dinner jazz if they are quiet and more lively stuff if they start making more noise. One of the most important things for me as a jazz pianist in this situation is to be aware of whether my music is interfering with the conversation of the wedding guests. If it is; then I'm doing something wrong.
For most weddings I play the piano right up to the speeches and that's where I usually finish. I do however, occasionally carry on after if there is a gap between the end of the speeches and the start of the evening's entertainment. All weddings are different and at the end of the day it is up to you and what you would like me to do.
The Evening Reception
More and more I am asked to provide the evenings entertainment. Some couples prefer to have something a little more relaxing than the normal disco have me as either a solo pianist, a duo (piano and bass or piano and vocals) or one of the bigger line ups. Others have a disco in one room while I am playing in another. This latter option gives your guests a choice and it's amazing how many people choose to come into the room with solo piano music. What a lot of people don't realise is that most of the guests at a wedding haven't seen each other for a long time and desperately want to talk. Having mellow jazz gives people that freedom.
I can provide line ups from just solo piano right up to a five piece band with piano, bass, drums, vocals and sax. Please note, however, that whichever vocalist or instrumental line up you choose – it will not be a function band. Quite a lot of couples like to have mellow jazz, but they also like just an hour or two dance music at the end of the night . I can provide this without you having to have a fully blown disco.