Performing as a Pianist in Dorking
I only live a stone's throw away from Surrey and quite a lot of my work as a pianist is around the Dorking area. There are many lovely venues scattered throughout the area. In other words, couples looking for a wedding venue could be spoilt for choice. I play the piano for a lot of weddings in the area and I also perform for quite a few private parties and corporate events.
From a Solo Pianist to a Jazz Band
You can hire me in the Dorking district both as a solo jazz pianist and as a combo player in line ups right up to a five-piece jazz band. I use some of the finest jazz musicians in the country and I hope that this comes through in the quality of the music.
The full range of line-ups include:
a) Duo – piano and vocals or piano and bass
b) Trio – piano, bass and vocals or piano, bass and drums
c) Quartet – piano, bass, drums and vocals or piano, bass, drums and sax
d) Five Piece Jazz Band – piano, bass, drums, sax and vocals
Please contact us for help with the best type of line up for your event.
The Music
Jazz is very popular in the Dorking area and most of the time I'm hired as a jazz pianist. I specialise in the great jazz standards and jazz songs made famous by artists such as by Frank Sinatra, Nat King Cole, Ella Fitzgerald, and Fred Astaire. My style has developed by listening to the great jazz pianists of the past. These include Erroll Garner, Oscar Peterson, George Shearing, and Monty Alexander.
Whether you book me as a solo jazz pianist or the full jazz band, I try to make the music have a feel good quality. I hope that this quality makes the music sit well in any situation. Adding sparkle to your event without drowning conversation.
Besides jazz, I also play music from many other genres. These genres include: Latin, pop, blues, rock, classical and even singalong.
My Work as a Sing-along Pianist in Dorking
Singalong events have been a recent trend and now often booked as a sing-along pianist. The events have come in all forms, but Cockney themed events have been the most popular. Furthermore, I have enjoyed playing the piano for these Cockney style events over the last few years. Please see the sing-along page for more information or visit www.uksingalongpianist.co.uk.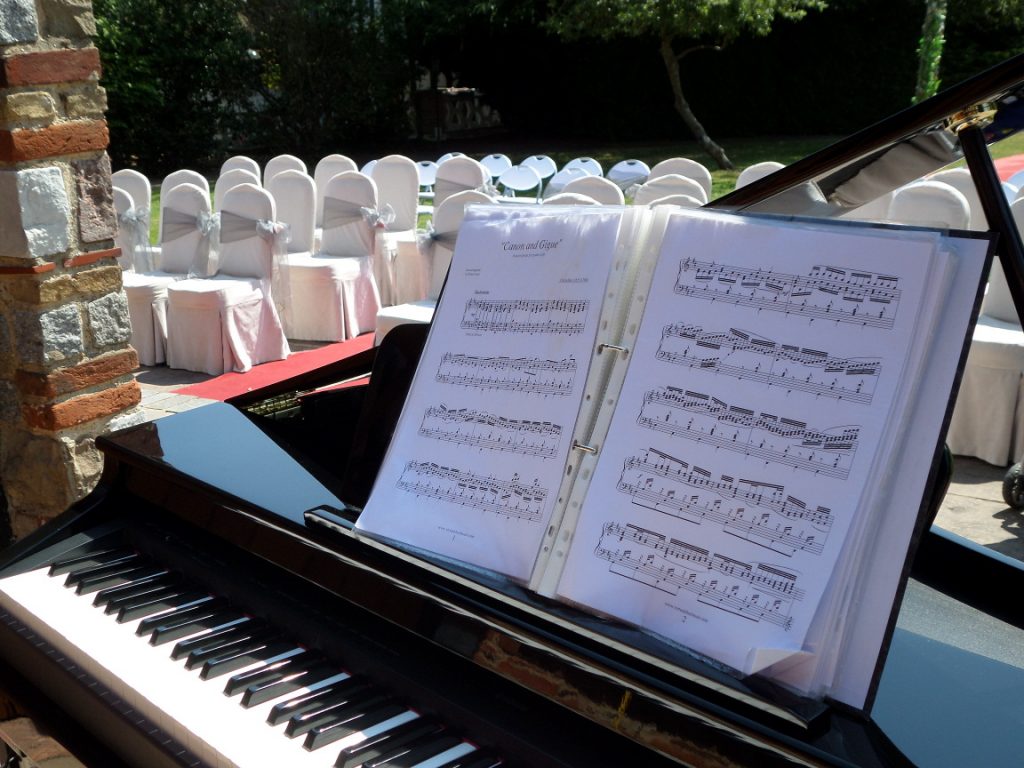 Here are the venues in Dorking and Surrey that I've visited as a pianist:
Denbies Vineyard London Road, Dorking RH5 6AA
Farnham Castle Conference Centre, Farnham, Surrey GU9 0AG
Great Fosters, Stroude Road, Egham TW20 9UR
Horsley Towers, Ockham Road South, East Horsley, Guildford, Surrey KT24 6DU
Langshott Manor, Horley RH6 9LN
Nutfield Priory, Nutfield Rd, Nutfield, Redhill, Surrey RH1 4EL
Pembroke Lodge, Richmond Park, Richmond, Surrey TW10 5HX
Ramster, Chiddingfold, Nr Godalming GU8 4SN
Red Barn (The). Tandridge Lane, Blindley Heath, Surrey, RH7 6LL.
Please visit my HOME PAGE HERE
Please explore this site by clicking the links on the left of this page.
I am available as a pianist in Dorking and Surrey. Furthermore, I'm also available to play the piano throughout England, Scotland and Wales. The events I play for include weddings, parties and corporate events.oughout England, Scotland and Wales.