Performing as a Pianist and Jazz Band in Bristol, Avon
Bristol is a wonderful city and I always look forward to playing the piano there. Two famous pianists came from Bristol. First, there was Russ Conway who made quite a few hits in the late fifties and the first half of the sixties. He had bad health and he had to stop performing between 1968 and 1971. The second pianist I'm going to mention is Joseph Cooper. He was a concert pianist but became better known for presenting the BBC1 panel game 'Face the Music'. One feature of the TV programme was Joseph performing piano extemporizations of well-known tunes.
I have worked as a jazz pianist in both venues and private homes in and around Bristol and Avon. As well as offering myself as a solo pianist, I am also available with my five-piece jazz band. I can offer a full range of line-ups from duos right up to the five-piece jazz band. The full range of line-ups are as follows:
Duo – piano and vocals or piano and bass
Trio – piano, bass and vocals or piano, bass and drums
Quartet – piano, bass, drums and vocals or piano, bass, drums and sax
Five Piece Jazz Band – piano, bass, drums, sax and vocals
I can help you choose a line-up that will match both your budget and available space at your chosen venue.
Weddings and Events
Bristol is a beautiful city and has a vast array of venues to choose from. The area is very popular for weddings and it is as a wedding pianist that I am most often hired. Besides weddings, I am also booked to play the piano for corporate events and private parties.
The Music
My specialty is jazz piano, but please don't let that frighten you off. My music is a product of listening to the great pianists of the past. Pianists such as Oscar Peterson, George Shearing, and Erroll Garner. in contrast to the musicians who perform the more modern forms of jazz.
My work as a wedding pianist has taught me to perform many other genres of music. These include rock, pop, Latin, classical, and sing-along. I try and give my music a 'feel-good' quality. I hope my music will add sparkle to your event, without drowning conversation.
There has been a recent trend to book me as a singalong pianist, and I have to say that it has become something that I enjoy. For these events, I provide all the song sheets. So that all you have to do is provide some hearty voices and enthusiasm.
Please see Singalong Page for more information about this. Alternatively visit my other website at www.uksingalongpianist.co.uk.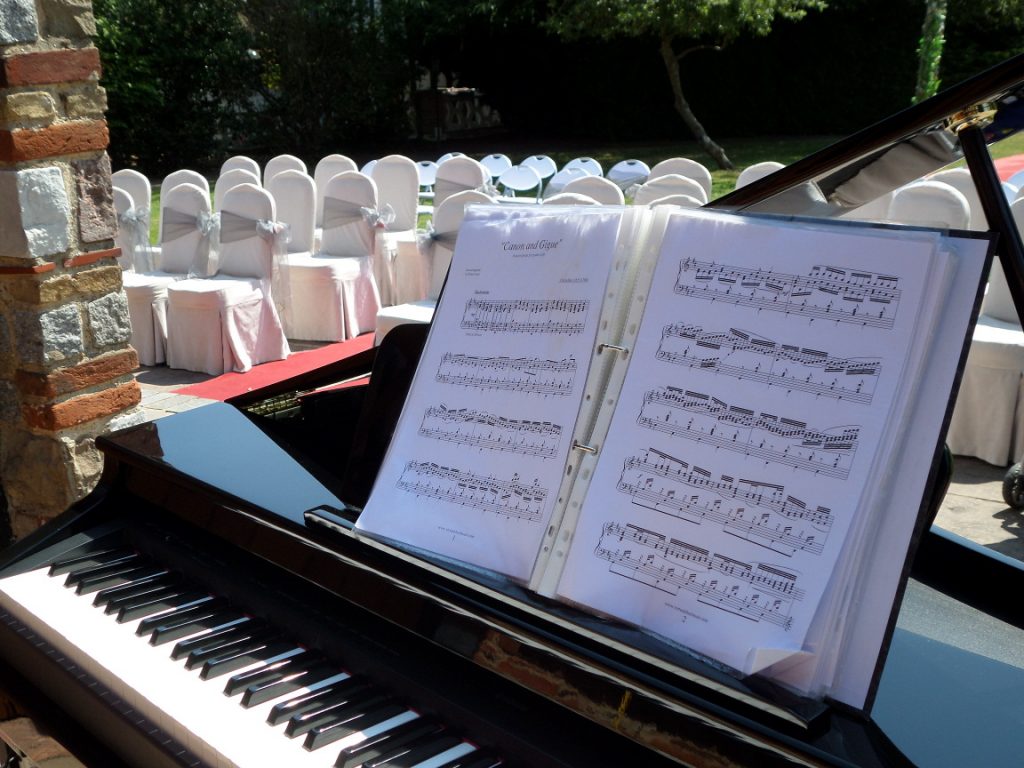 Here are some of the venues in Bristol and Avon where I have performed as a pianist:
Bristol Marriot, 2 Lower Castle Street, Old Market, Bristol, Avon BS1 3AD
Marriot Hotel, Bristol, Avon
Duke of Gloucester Barracks, South Cerney, Cirencester, Gloucestershire GL7 5RD
Hidcote Manor Gardens, Hidcote Bartrim, Chipping Campden, Gloucestershire GL55 6LR
Berkeley Castle, Berkeley, Gloucestershire GL13 9BQ
Burleigh Court Hotel, Burleigh, Minchinhampton, Stroud, Gloucestershire GL5 2PF
Cripps Barn, Fosscross Lane Cirencester, Gloucestershire GL7 5BA
Hare and Hounds Hotel, Bath Road, Westonbirt, Gloucestershire GL8 8QL
Lansdown Bar, Lansdown Road, Cheltenham, Gloucestershire GL50 2LG
Puckrup Hall, Tewkesbury, Gloucestershire GL20 6EL
Rendcombe College, Rendcombe, Nr Cirencester, Gloucestershire GL7 7HA
Thornbury Castle, Thornbury, Gloucestershire BS35 1HH
Please visit Eugene's HOME PAGE HERE
Please explore this site by clicking the links on the left of this page.
Available as a jazz pianist/wedding pianist in Bristol, Avon and UK