Performing as a Pianist in Wiltshire
I love Wiltshire as a county and I always look forward to working as a pianist in the area. Throughout the year Wiltshire provides me with a great deal of work and I am always grateful for that. Furthermore, most of this work is as a pianist for weddings and civil partnerships. Wiltshire has a wide range of venues which makes it an ideal place for weddings and all types of other events.
From a Solo Pianist to a Jazz Band
The bulk of my work in Wiltshire is as a pianist solo pianist, but I can offer a wide range of larger line-ups. These range from duos (vocals and piano or piano and bass) right up to a five-piece jazz band. Here is a list of all the line-ups I offer:
Duo – piano and bass
Trio – piano, bass, and drums
Quartet – piano, bass, drums, and sax
The Music
I've always loved jazz and a lot of my work in Witshire is as a jazz pianist. My piano style has developed through listening and studying the great jazz pianists of the past. These pianists include the likes of Oscar Peterson, Erroll Garner, and George Shearing. other influences have been Louis Armstrong, Ben Webster, and Ella Fitzgerald.
I've mentioned jazz, but being able to play jazz isn't enough. If I am to be successful as a wedding pianist in the Wiltshire area I have to be able to play different styles of music. This can involve playing classical music for ceremonies and other genres for the rest of the day. The genres of music I play include pop, rock, jazz, blues, Latin, classical, and even singalong.
My main aim when performing is to entertain., and one of the ways I try to achieve this is by playing songs that people know and love. Furthermore, I try and play at a volume that encourages people to talk, rather than completely drowning conversation. I often find that music is too loud at events, and I can often see people struggling to converse. I try and rectify this by always being willing to turn down the volume and encouraging feedback.
My Work as a Sing-along Pianist in Wiltshire,
I have noticed an increasing demand to hire me as a sing-along pianist in the Wiltshire area and this is something that I've grown to love. This sort of music suits Cockney themed events and Wartimes celebrations. However, I am occasionally required to organise a sing-along for more formal events such as weddings, and corporate events.
Please see the sing-along page or visit www.uksingalongpianist.co.uk for more information.
Here are some of the venues in Wiltshire where I have performed as a pianist:
Pelican Inn (The), Bath Road, Froxfield, Marlborough, Wiltshire, SN8 3JY ()
Rose & Crown Hotel (The) Harnham Road, Salisbury, Wiltshire SP2 8JQ
St Johns Place, Lower Road, Lower Bemerton, Salisbury, Wiltshire SP2 9NP
Bakers Arms Badbury, Swindon, Wiltshire SN4 0EU
St. Pauls Conservative WMC, 41 Devizes Road, Wiltshire SP2 7AA
Trafalgar Park, Barford Lane, Standlynch, Nr Salisbury, Wiltshire SP5 3QR
Pentridge Village Hall Pentridge, Salisbury Wiltshire SP5 5QX
Pinkney Park, Malmesbury, Wiltshire SN16 0NX
RAF Lyneham, Chippenam, Wiltshire SN15 4PZ
The Crown Inn, Chandlers Lane, Bishops Cannings, Devizes, Wiltshire, SN10 2JZ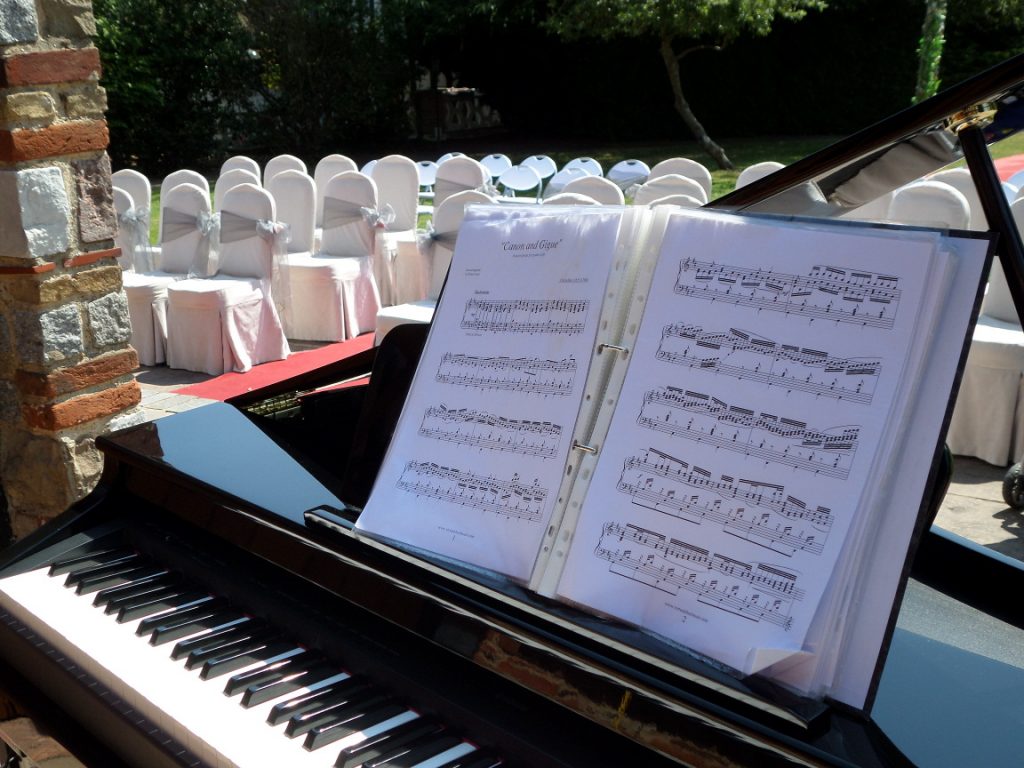 You can hire me as a jazz pianist in Wiltshire, Salisbury, Devizes, Chippenham or Marlborough.
The music is ideal for weddings, corporate events and parties.
Please visit my HOME PAGE HERE