Performing as a Pianist in the West Midlands
The West Midlands is a constant source of work to me as a pianist and I am very grateful for that fact. The area has a great range of venues which makes it the ideal place to hold a wedding or other event.
It is often my role as a wedding pianist that brings me to the West Midlands region. This gives me the opportunity to see some of the area's many venues.
From Solo Pianist to a Jazz Band
The bulk of my work in the West Mdlands area is as a solo pianist, but I can offer other line-ups. These range from duos and trios right up to a four piece jazz band. The full range of line-ups I offer is as follows:
Duo – piano and bass
Trio – piano, bass, and drums
Quartet – piano, bass, drums and sax
I can help you choose a line-up that will match both your budget and available space at your chosen venue.
The Music
There is a big jazz scene in the West Midlands area and am often required to perform as a jazz pianist. I am a keen jazz lover and I've developed a style based on the great jazz pianists of the past. My main influences are the likes of Oscar Peterson, Erroll Garner, and Bill Evans. Moreover, my style of jazz isn't avant-garde but is a style reminiscent of the music from the swing era. This makes my music have more general appeal unlike some of the more contemporary forms of jazz.
My work as a wedding pianist demands me to be versatile and I can't get away with playing jazz all the time. I am often required to play different styles of music for each part of the wedding day. A popular choice is to have classical music for the ceremony, but the reception and meal can have specific styles of music.
Fortunately, I play a lot of styles of music and these include pop, blues, classical, rock, Latin, and even sing-along.
My Work as a Sing-along Pianist in the West Midlands
There is a growing trend to book me as a sing-along pianist in the West Midlands area and is something I love. This sort of music suits all types of events – especially informal ones. Examples of occasions that use this sort of music are Cockney and Wartime events. However, there has been a dramatic increase in Peaky Blinders evenings, and old fashioned pub singalong music is ideal for these.
Please see Singalong Page or visit www.uksingalongpianist.co.uk for more information.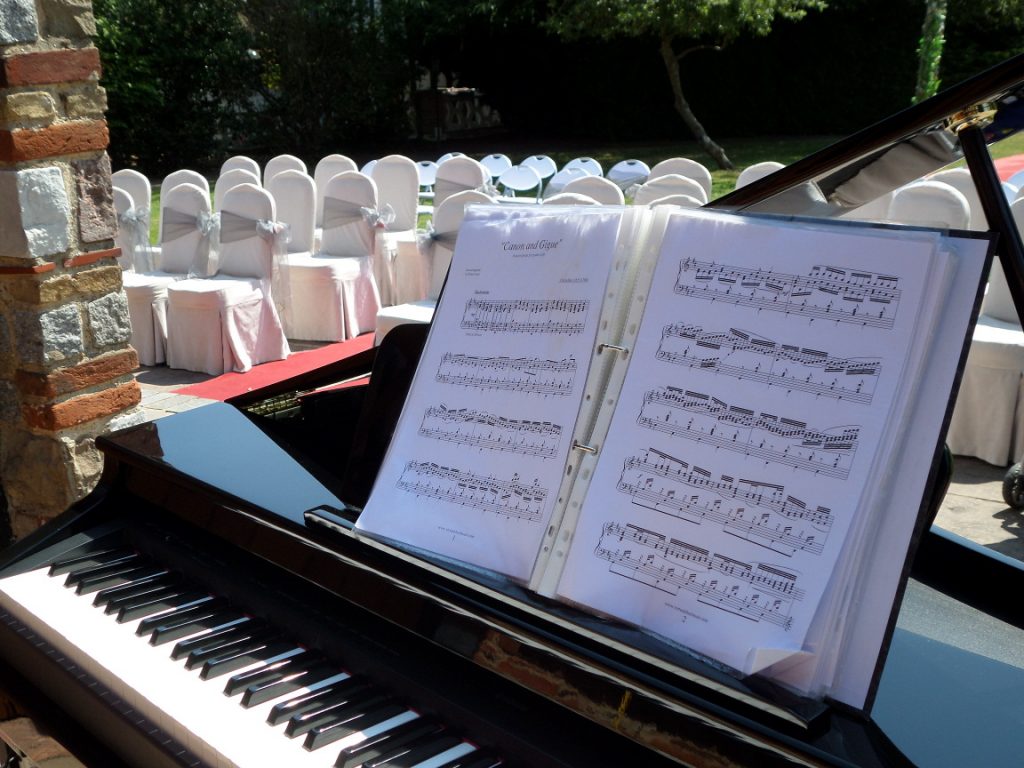 Here are some of the venues in the West Midlands where I have performed as a pianist:
Gala Casino Birmingham, 84 Hill Street, Birmingham, West Midlands B5 4AH
Gala Casino Wolverhampton, Whitmore Street, Wolverhampton, West Midlands WV1 1JS
Ikon Gallery (The), 1 Oozells Square, Blindleyplace, Birmingham, West Midlands B1 2HS
Singers Hill Synagogue, Ellis Street, Birmingham, West Midlands B1 1HL
Windmill Village Hotel & Golf Club,, Birmingham Road,, Allesley,, Coventry, West Midlands CV5 9AL
The Jasper Carrott Suite, Birmingham City Football Club, St. Andrews Stadium, Birmingham , West Midlands B9 4 RL
The St Johns Hotel, 651 Warwick Road, West Midlands B91 1AT
Hopwood House, Hopwood, Birmingham, West Midlands B48 7AB
Farthings, Green Lane, Castle Bromwich, Birmingham, West Midlands B36 0AY
Please visit Eugene's HOME PAGE HERE
Please explore this site by clicking the links on the left of this page.
Available as a jazz pianist/wedding pianist in West Midlands, Coventry, Dudley, Sandwell, Solihull, Walsall, and Wolverhampton