Performing as a Pianist in Somerset
For some reason, Somerset has always provided me with a constant stream of work as a pianist. Although I do play for many types of events, the bulk of my work is as a wedding pianist. The reason for this is that Somerset has many wonderful venues, especially rural ones.
I do play the piano for a lot of weddings, but I also provide music for corporate events and private parties. Besides these, I am also booked for quite a few outdoor events and music festivals.
From a Solo Pianist to a Jazz Band
A lot of my work in Somerset is as a solo pianist, but I am booked more and more as a larger line-up with other musicians. The line line-ups I provide are anything from a duo (piano and bass or piano and vocals) right up to a five-piece jazz band. Here is a full list of the line-ups I can offer:
Duo – piano and bass
Trio – piano, bass, and drums
Quartet – piano, bass, drums, and sax
If you contact me I can help you find a line-up that will match both your budget and space at your chosen venue.
The Music
The biggest part of my work in the Somerset area is as a jazz pianist, but my music is not ultra-modern. My main influences are pianists such as George shearing, Erroll Garner, and Dudley Moore. I prefer an older style of jazz which has more general appeal.
Above all, I try and make my piano music entertaining and I play tunes that people know and love. I try to make my music add sparkle to your event, without drowning conversation.
Because of my work as a wedding pianist in the Somerset area, I have to be able to play all styles of music. Besides jazz I do play music from many other genres such as rock, Latin, sing-a-long, classical, and pop.
My Work in Somerset as a Sing-along Pianist
A recent trend in Somerset has been to book me as a sing-along pianist. This has become something that I enjoy more and more. The events that require this type of music tend to be informal ones. These include Peaky Blinders evenings, Wartime events and Cockney nights.
Please see the singalong page for further details or visit my other website HERE.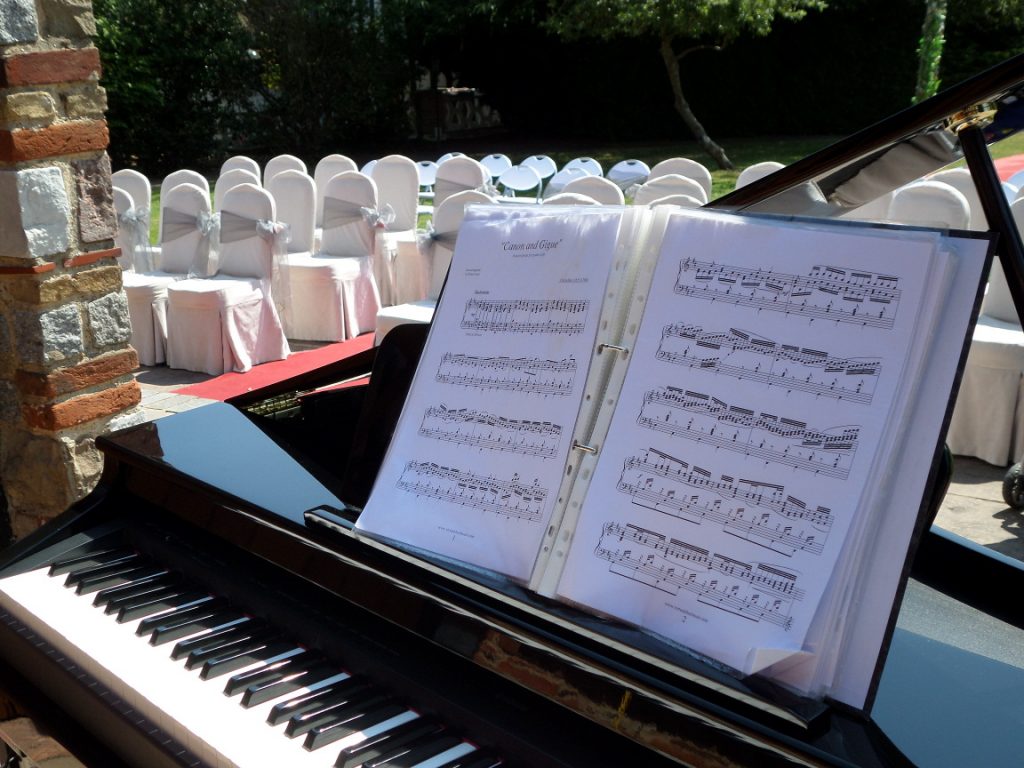 You can visit my HOME PAGE HERE
Please explore this site by clicking the links on the left of this page.
Here are some of the venues I've visited in Somerset as a pianist:
Combe House Hotel, Holford, Somerset TA5 1RZ. A lovely setting and a great venue. I have played the piano here on a number of occasions and I always look forward to my next visit. Unfortunately, the venue doesn't own a piano so I have to take a digital piano with me.
Hornsbury Mill, Eleighwater, Chard, Somerset TA20 3AQ
Orchardleigh House, Orchardleigh Park, Frome, Somerset BA11 2PH
Priston Mill, Bath, Somerset BA2 9EQ
St. Audries Park , West Quantoxhead, Taunton, Somerset TA4 4DS. This venue does have a piano in one of the rooms. However, I am often required to play in other areas of the venue and I have to play a digital piano.
Tone Dale House, Wellington Somerset
Wood's Restaurant , 9 – 13 Alfred Street, Bath, Somerset BA1 2QX. Wood's has a really nice grand piano and it is always nice for me to play here. Being booked as a pianist in Bath is something I always look forward to.
The Beambridge Inn, Wellington, Somerset TA21 0HB
The Longhouse – Mill on the Brue, Trendle Farm, Tower Hill, Bruton, Somerset BA10 0BA
The John Rennie – Bath Narrowboats, Sydney Wharf, Bathwick Hill, Bath BA2 4EL
The Royal Crescent Hotel & Spa, 16 Royal Cres, Bath BA1 2LS
The Pump Room, Stall Street, Bath BA1 1LZ
Tythe Barn, Priston Mill, Priston, Bath BA2 9EQ
You can hire me as a jazz pianist in Somerset, Bath, Weston-Super-Mare, Taunton, Frome, or Yeovil. The music is ideal for weddings, corporate events, and parties.