Performing as a Pianist in Sheffield, Yorkshire
I always like to go to Sheffield and perform as a pianist in any of its wonderful venues. Moreover, I was born in Yorkshire so I like a good excuse to go back there and visit my family.
More often than not I perform in the Sheffield area as a pianist for weddings and civil partnerships. This is because there are so many exceptional venues and hotels in the area.
For more information about weddings please visit my wedding page or www.ukweddingpianist.co.uk.
From a Solo Pianist to a Jazz Band
The bulk of my work in the Sheffield area is as a solo pianist, but I do offer larger line-ups. These range from duos up to a five-piece jazz band. This variety makes it very easy to find a line-up that will match both the available budget and space. Here is the full range of line-ups I offer:
Duo – piano and bass
Trio – piano, bass, and drums
Quartet – piano, bass, drums, and sax
Please contact us for help with the best type of line up for your event.
The Music
Most of the bookings that come in for the Sheffield area are for me as a jazz pianist. I cultivated my piano style by listening to the great pianists of the past. These have included the likes of Erroll Garner, Oscar Peterson, and George Shearing.
When I perform at an event, my main focus is to make the music entertaining. One of the ways I try to achieve this is by playing tunes that we all know and love. I try and make my music add sparkle to an event without drowning conversation.
When I perform as a wedding pianist it is important that I am able to perform many styles of music. For instance, I am often hired to play classical music for the ceremony and other styles for parts of the day. The various genres of music I play include blues, rock, pop, classical, Latin, and even sing-along.
There has been a recent tren in the Sheffield area to book me as a sing-along pianist. This has become something that I love. Most of the events that require this type of music tend to be informal events. Yet, there are occasions when even formal events such as weddings like to feature a singalong as part of the day.
Please see the sing-along page for more information about this.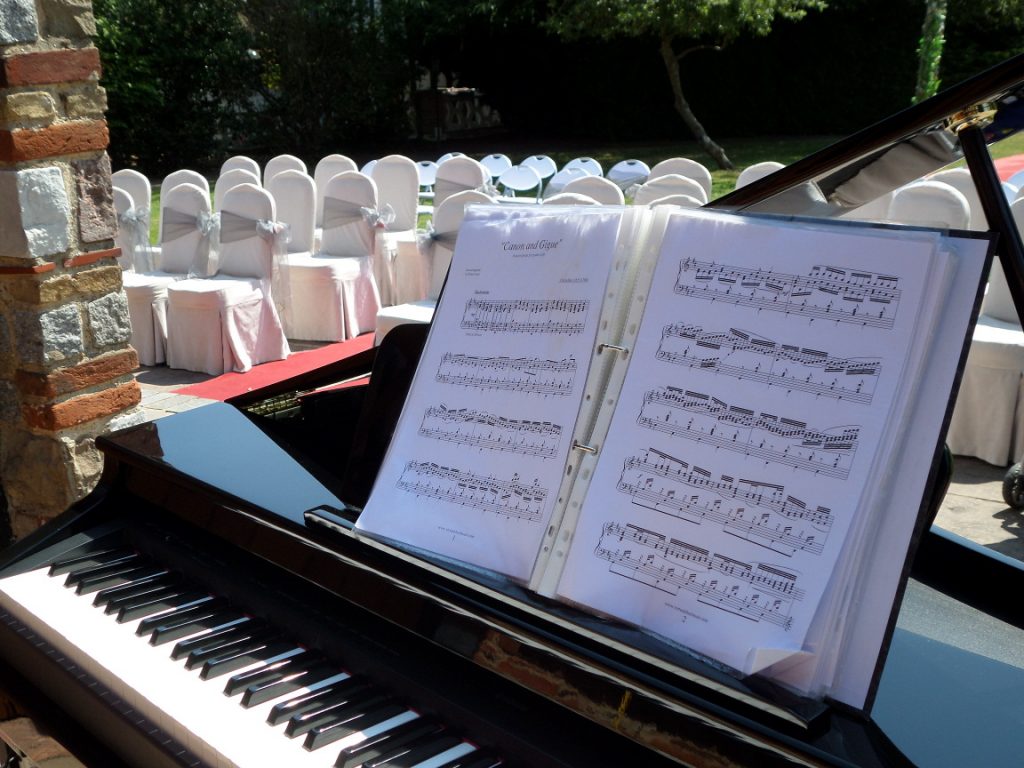 Here are some of the venues in Sheffield, Yorkshire where I have performed as a pianist for weddings and events:
Whirlowbrook Hall, Eccleshall Road South, Sheffield, South Yorkshire. S11 9QD
Whitley Hall Hotel, Elliot Lane, Grenoside, Sheffield, South Yorkshire S35 8NR
Ecclesall Woods Discovery Centre, Abbey Lane, Sheffield S7 2QZ
Cutlers' Hall, Church St, Sheffield City Centre, Sheffield S1 1HG
Sheffield City Hall, Barker's Pool, Sheffield City Centre, Sheffield S1 2JA
Kenwood Hall, Kenwood Road, Sheffield, S7 1NQ
Please visit my HOME PAGE HERE
Please explore this site by clicking the links on the left of this page.
You can hire me as a jazz pianist in Sheffield and Yorkshire. The music is ideal for weddings, corporate events and parties.