Performing as a Pianist in Nottinghamshire
There are a lot of venues in Nottinghamshire and I have performed as a pianist in a lot of them. Weddings form the biggest part of my work in the area, but I've also played the piano other types of events. These events are in venues ranging from golf clubs to country house hotels.
From a Solo Pianist to a Jazz Band
I've enjoyed doing a lot of work in Nottinghamshire as a solo pianist. However, I can offer a full range of line-ups from just a duo right up to a five-piece jazz band. The full range of line-ups is as follows:
Duo – piano and bass
Trio – piano, bass, and drums
Quartet – piano, bass, drums, and sax
I can find a line-up that will match both your budget and available space at your chosen venue.
The Music
The bulk of my work in Nottinghamshire is as a jazz pianist and this is for all types of events. I love jazz and my piano style has developed through listening to all the great pianists of the past. These include the likes of Oscar Peterson, Erroll Garner, and Teddy Wilson.
My biggest aim is to make my music entertaining, and one of the ways I do this is by playing tunes that people know and love. I endeavor to make my music adds sparkle to an event and not drown the conversion. Furthermore, my music should put people at ease and they should feel free to talk.
I often perform in Nottinghamshire as a wedding pianist and this involves playing many styles of music. At weddings, I am often required to play a different genre of music for each part of the wedding day. For example: classical for the ceremony, jazz for the reception, and mixed genres for the wedding breakfast.
My Work in Nottinghamshire as a Sing-along Pianist
I have experienced a recent trend in the Nottingham area to book me as a sing-along pianist. This has become something I enjoy and this type of music suits many types of events. The events that require this music are Peaky Blinders evenings, Wartime events, and Cockney nights.
Please see the singalong page for further details or visit my other website HERE.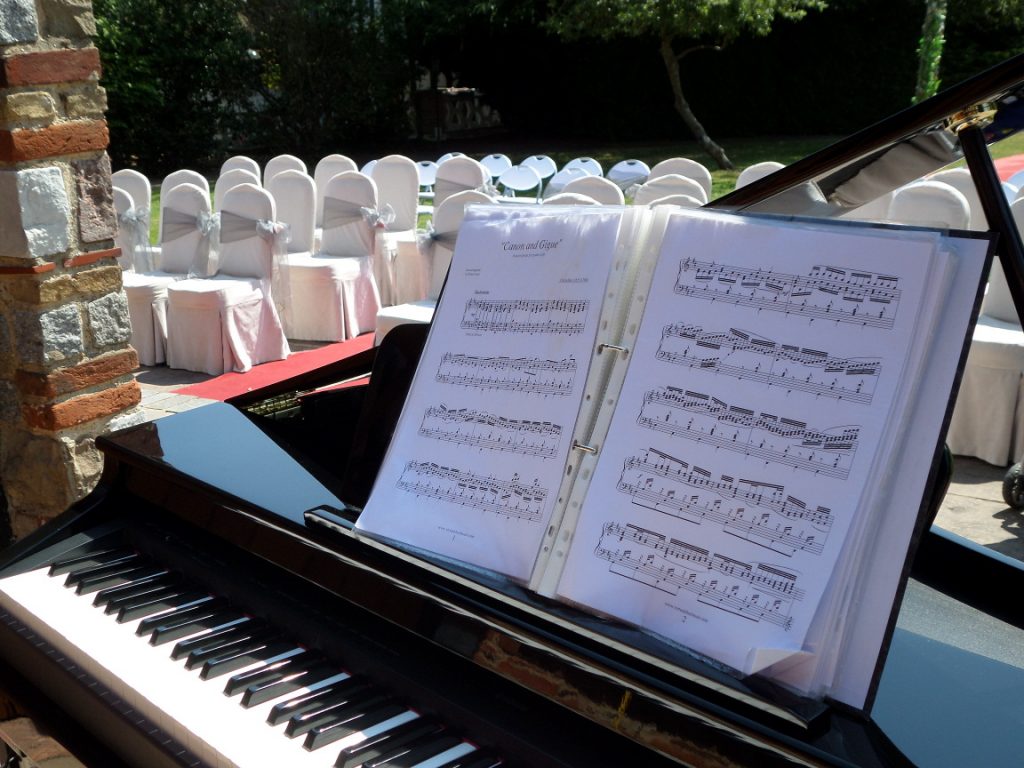 You can visit my HOME PAGE HERE
Please explore this site by clicking the links on the left of this page.
Here are some of the venues I've visited in Nottinghamshire as a pianist:
Colwick Hall, Racecourse Road, Nottingham, Nottinghamshire, NG2 4BH
Ruddington Grange Golf Club, Ruddington, Nottingham, Nottinghamshire NG11 6NB
Ye Olde Bell, Barnby Moor, Retford, Nottinghamshire, DN22 8QS
Stubton Hall, Stubton, Newark, Nottinghamshire, NG23 5DD
The Nottinghamshire Golf and Country Club, Cotgrave, Stragglethorpe, Nottingham NG12 3HB
Thrumpton Hall, Church Lane, Thrumpton, Nottingham NG11 0AX
Cockliffe Country House, Burntstump Country Park Nottingham Nottinghamshire NG5 8PQ
You can hire me as a jazz pianist in Nottinghamshire, Nottingham, Mansfield, Worksop, Newark, Retford, or Southwell. The music is ideal for weddings, corporate events, and parties.