Performing as a Pianist in Gloucestershire
Gloucestershire is one of my favourite areas to work in as a pianist and I always look forward to visiting the county. The area has a wide range of venues that are ideal for weddings, parties, and corporate events. Furthermore, the county is picturesque and a lot of the venues are in stunning locations.
Gloucestershire provides me with plenty of work as a pianist for weddings, but I do perform for other kinds of events. These can range from birthday parties and anniversaries to store openings and product launches.
From a Solo Pianist to a Jazz Band
There is a big demand for solo pianists in Gloucestershire and this forms the bulk of my work. However, I can provide larger line-ups from duos up to a five-piece jazz band. Here is a list of all the line-ups I offer:
Duo – piano and bass
Trio – piano, bass, and drums
Quartet – piano, bass, drums, and sax
The Music
I suppose jazz is my thing and most of my work in the Gloucestershire area is as a jazz pianist. My jazz piano style has developed through studying the great jazz pianists of the past. These include the likes of Bill Evans, Erroll Garner, and George Shearing.
Being able to play jazz isn't enough. Most of my work in the area consists of being a pianist for weddings and this means that I have to be versatile. It isn't uncommon for me to have to play a different genre of music for each part of the wedding day. Some of the genres I play are pop, rock, blues, Latin, classical, and even sing-along.
When I am performing as a pianist, my main aim is to entertain. One way that I try to achieve this is by playing songs that people know and love. I also try and perform at a level that allows people to talk freely without having to shout. I hope that my music adds sparkle to your event without drowning conversation.
My Work as a Sing-along Pianist in Gloucestershire,
II've noticed a recent trend in the Gloucestershire area to hire me as a sing-along pianist and this has become something I enjoy. This style of music suits Cockney and Wartime themed events. However, I have occasionally had to organise a sing-along for more formal events such as weddings.
Please see the sing-along page or visit www.uksingalongpianist.co.uk for more information.
Here are some of the venues in Gloucestershire where I have performed as a pianist:
Bear of Rodborough Hotel (The), Rodborough Common, Stroud, Gloucestershire, GL5 5DE
Elmore Court, Elmore, Gloucestershire GL2 3NT
Old Elm Inn, Church Road, Churchdown, Gloucester, Gloucestershire GL3 2ER
Greyhound Inn (The), Ashton Road, Siddington, Cirencester, Gloucestershire, GL7 6HR
Puckrup Hall, Puckrup Ln, Tewkesbury, Gloucestershire GL20 6EL
Hare and Hounds Hotel, Bath Road, Westonbirt, Gloucestershire GL8 8QL
Berkeley Castle, Berkeley, Gloucestershire, GL13 9BQ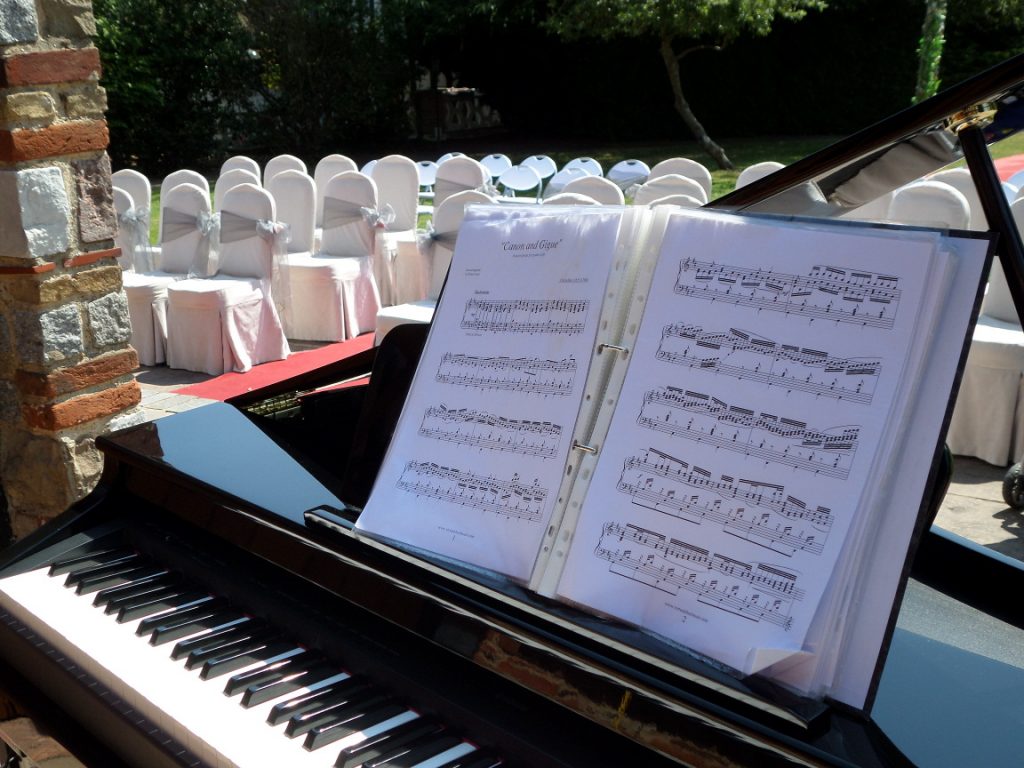 You can hire me as a jazz pianist in Gloucestershire, Gloucester, Cotswolds, Cheltenham, Cirencester, or Stroud.
The music is ideal for weddings, corporate events and parties.
Please visit my HOME PAGE HERE