Performing as a Pianist in Gloucestershire
Gloucestershire has provided me with plenty of work as a pianist over the years. Furthermore, I always look forward to visiting this scenic county and I hope that the work continues.
Gloucestershire is a popular wedding destination and most of my work in the area is as a wedding pianist. These weddings have been in a wide range of venues from local pubs to historic country houses.
From a Solo Pianist to a Jazz Band
The biggest part of my work in Gloucestershire is as a solo pianist. But, I can provide a range of line-ups from duos to a five-piece jazz band. The full range is as follows:
Duo – piano and bass
Trio – piano, bass, and drums
Quartet – piano, bass, drums, and sax
I can find a line-up that will match both your budget and available space at your chosen venue.
The Music
I trained as a classical pianist before developing an interest in jazz. My jazz piano style evolved through listening to the great jazz pianists of the past. These include Oscar Peterson, George Shearing, and Erroll Garner.
Most of my work consists of weddings and I have to be able to play many styles of music. Furthermore, couples often want me to play a different style of music for each part of their special day. Here are some of the genres of music I play: pop, rock, Latin, classical, blues, and even singalong.
A recent trend has been to book me as a singalong pianist, and it has become something I love. The events that need this style of music tend to be Wartime or Cockney themed. Although I'm also hired to play this style of music for other types of events including weddings.
Please see the singalong page for further details or visit my other website HERE.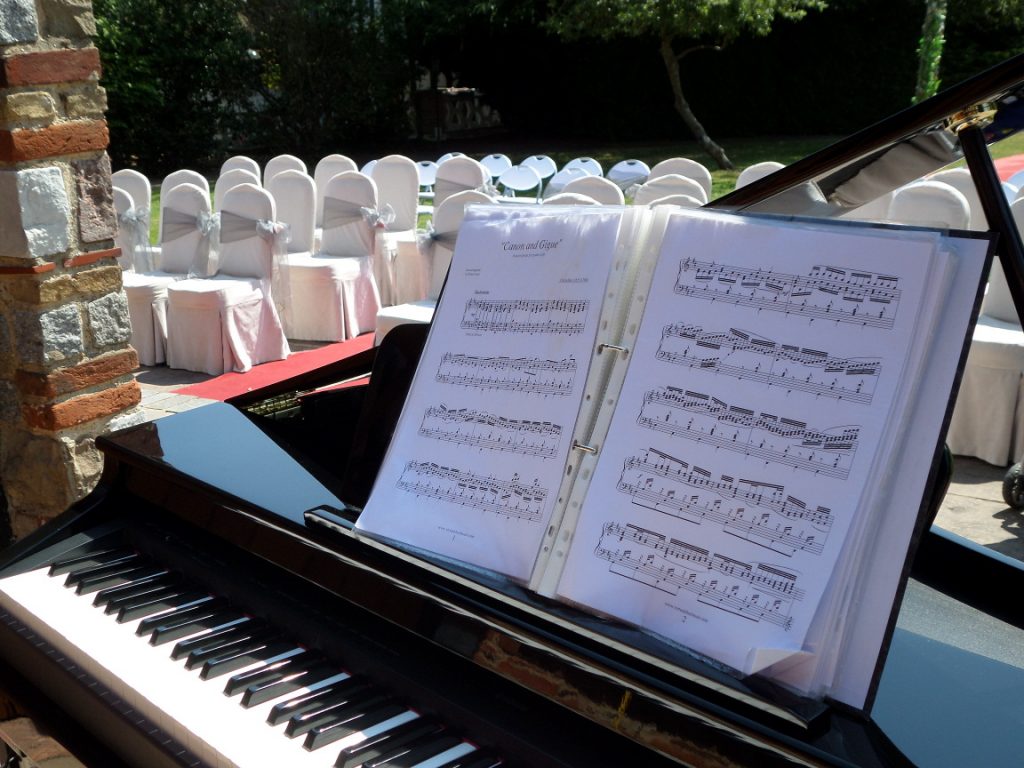 You can visit my HOME PAGE HERE
Please explore this site by clicking the links on the left of this page.
Here are some of the venues in Gloucestershire I've visited as a pianist:
Bear of Rodborough Hotel (The), Rodborough Common, Stroud, Gloucestershire, GL5 5DE
Elmore Court, Elmore, Gloucestershire GL2 3NT
Old Elm Inn, Church Road, Churchdown, Gloucester, Gloucestershire GL3 2ER
Greyhound Inn (The), Ashton Road, Siddington, Cirencester, Gloucestershire, GL7 6HR
Puckrup Hall, Puckrup Ln, Tewkesbury GL20 6EL
Hare and Hounds Hotel, Bath Road, Westonbirt, Gloucestershire GL8 8QL
The Rectory Hotel, Crudwell, Malmesbury SN16 9EP
Berkeley Castle, Berkeley, Gloucestershire, GL13 9BQ
You can hire me as a jazz pianist in Gloucestershire, Gloucester, Bristol, Cheltenham, Stroud, Cirencester, or Tewkesbury. The music is ideal for weddings, corporate events, and parties.