Performing as a Pianist in Derbyshire
I'm always surprised by how many times I'm booked as a wedding pianist in the Derbyshire area. I suppose that this is because of the amazing choice of beautiful venues – many of them in rural locations. Derbyshire's beautiful scenery often provides a wonderful backdrop for many venues.
I always look forward to performing as a pianist in the Derbyshire area and I aim to do much more.
From a Solo Pianist to a Jazz Band
Most of my work in Derbyshire is as a solo pianist, yet I do offer larger line-ups. These larger line-ups range from duos right up to a five-piece jazz band. The full range is as follows:
Duo – piano and bass
Trio – piano, bass, and drums
Quartet – piano, bass, drums, and sax
I can find a line-up that will match both your budget and available space at your chosen venue.
The Music
My passion is jazz and my piano style developed through listening to the great jazz pianists of the past. These pianists include the likes of Oscar Peterson, Erroll Garner, and George, Shearing. Further to that other influences are Louis Armstrong, Ella Fitzgerald, and Ben Webster.
To be a wedding pianist in the Derbyshire area, I have to be able to play many styles of music. Furthermore, I am often required to play music of different styles for each part of the wedding day. Luckily I do play many styles of music. These include pop, rock, blues, classical, Latin, and even singalong.
The trend to book me as a singalong pianist is a recent one and it has become something I love. Most of the events that need this sort of thing are Cockney and Wartime themed events. Although, some quite formal events such as weddings have a singalong as a feature. five-piece
Please see the singalong page for further details or visit my other website HERE.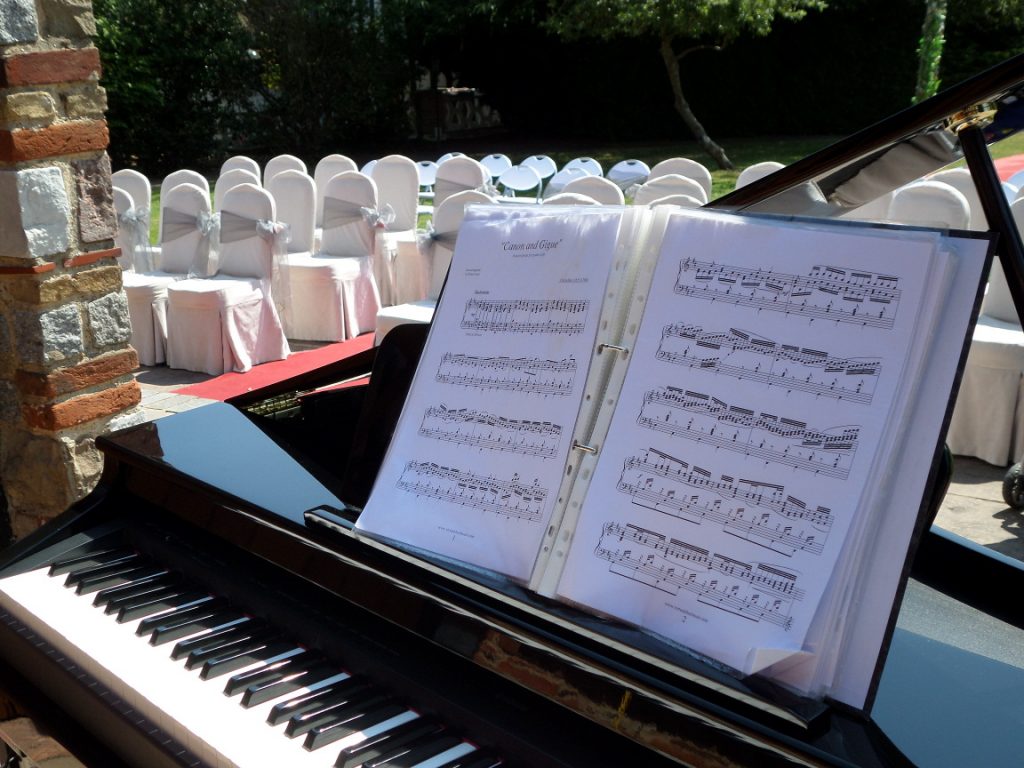 You can visit my HOME PAGE HERE
Please explore this site by clicking the links on the left of this page.
Here are some of the venues in Derbyshire I've visited as a pianist:
Risley Park, Derby Road, Risley, Derbyshire, DE72 3SS
Breadsall Priory, Moor Road, Morley, Nr. Derby, Derbyshire DE7 6DL
Maynard (The), Main Road, Grindleford, Derbyshire, S32 2HE
Shottle Hall, White Lane, Belper, Derbyshire DE56 2EB
Ringwood Hall Hotel, Brimington, Chesterfield, Derbyshire S43 1DQ
Sitwell Arms Hotel, Renishaw, Derbyshire S21 3WF
Thornbridge Hall, Ashford in the Water, Derbyshire DE45 INZ
Ashbourne Bowls Club, Wyaston Road, Ashbourn, Derbyshire DE6 1NB
Cressbrook Hall Buxton, Derbyshire SK17 8SY
West Mill (The), Darley Abbey Mills, Darley Abbey, Derbyshire DE22 1DZ
You can hire me as a jazz pianist in Derbyshire, Derby, Chesterfield, Ilkeston, Swadlincote, Buxton, Matlock, or Ashbourne. The music is ideal for weddings, corporate events, and parties.