Performing as a Pianist and Jazz Band in Cambridgeshire
Cambridge is a lovely county and I always look forward to visiting its many lovely venues a pianist. Weddings form the bulk of my work, but I do quite a few Parties and corporate events in the area. There are quite a few pianists in Cambridgeshire, yet there seems to be enough work to go around.
As well as performing as a solo pianist, I also perform in larger line-ups. These range from duos right up to a five-piece jazz band. The full range of line-ups are as follows:
Duo – piano and bass
Trio – piano, bass, and drums
Quartet – piano, bass, drums, and sax
I can help you choose a line-up that will match your budget and space at your venue in Cambridgeshire.
Weddings and Events
I have mentioned how often I work in Buckinghamshire. Yet, it is as a wedding pianist that I am usually booked. I'm sure that this is due to the choice of venues in the area. Also, the county is popular for couples living in London wishing to escape the throng of city life.
Apart from weddings, I am often booked for corporate events, parties, and anniversaries. I have performed as a pianist at many different kinds of events in the Buckinghamshire and I'm sure I'll perform at many more.
The Music
I am a jazz pianist foremost, but don't let this put you off. I like good tunes and I listen to jazz as performed by the likes of Ella Fitzgerald and Nat King Cole. Rather than the more modern performers like Charlie Parker and Dizzy Gillespie.
Although I have a love of jazz, I do enjoy playing all styles of music. These different styles of music enable me to perform as a wedding pianist. It isn't uncommon for couples to request a different style of music for each part of their wedding day. Here are some of the styles I cover: pop, rock, Latin, classical, blues, and even singalong.
The demand for me as a singalong pianist has been a recent thing and has become something I love. At first, it was Cambridgeshire pubs that hired me to do this for Cockney themed nights. Then, I started doing singalongs for weddings and quite formal events. If this interests you then please see Singalong Page for more information. Alternatively, visit www.uksingalongpianist.co.uk.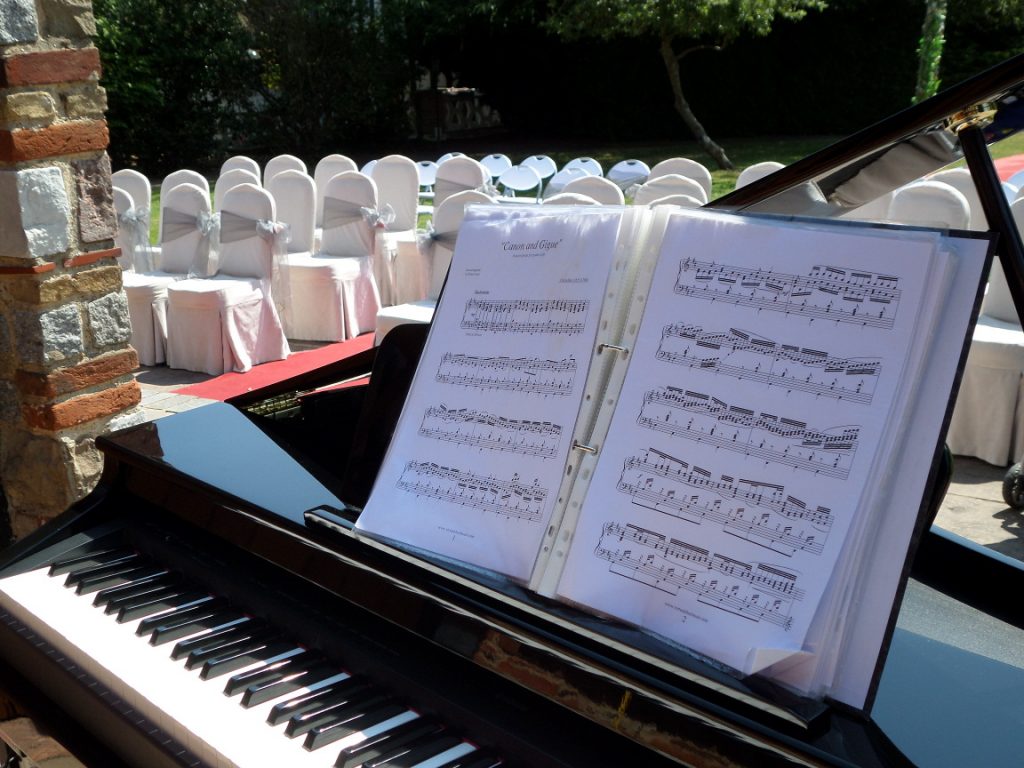 Her are some of the venues in Cambridgeshire I have visited:
Anstey Hall, Maris Lane, Trumpington, Cambridge, Cambridgeshire CB2 2LG
ATR Bassingbourn, Royston, Cambridgeshire SG8 5LX
Downing College, Cambridge, Cambridgeshire CB2 1DQ
Old Combination Room (The), Trinity College, Cambridge, CB2 1TQ
Chilford Hall Vineyard Chilford Hall, Balsham Road, Linton, Cambridge. CB1 6LE
Please explore this site by clicking the links on the left of this page.
Available as a jazz pianist/wedding pianist in Cambridgeshire. Also covering Cambridge, Wisbech, and Ely.