Performing as a Pianist and Jazz Band in Birmingham
Quite a large proportion of my work as a pianist is in the Birmingham area and very often consists of weddings. The region has a huge choice of venues and I have performed in many of them at one time or another. This range of venues makes Birmingham the ideal place for weddings and other events.
It is mostly weddings that bring me to Birmingham as a pianist, but I do provide music for other events. These events include private parties and corporate events.
From Solo Pianist to a Jazz Band
The bulk of my work in the Birmingham area is as a solo pianist, but I can larger line-ups for weddings and other events. These range from duos and trios right up to a four-piece jazz band. The full range of these line-ups is as follows:
Duo – piano and bass
Trio – piano, bass and drums
Quartet – piano, bass, drums and sax
I can help you choose a line-up that will match both your budget and available space at your chosen venue.
The Music
I love jazz, and a big proportion of my work in Birmingham is as a pianist performing jazz. My jazz piano style has evolved through listening to the great pianists of the past. These pianists include the likes of Erroll Garner, Oscar Peterson, and George Shearing.
I play the piano for a lot of weddings and this means that I have to be able to play many styles of music. Furthermore, I am often required to perform a different style of music for each part of the wedding day. For example, Classical music is popular for ceremonies, while jazz is the preferred choice for drinks receptions. This is often followed by background music for the meal and a mixture of pop, rock, and jazz for the evening. The genres of music I play include pop, blues, rock, classical, Latin, and even sing-along.
My Work as a Sing-along Pianist in Birmingham
There is a definite trend in the Birmingham area to hire me as a sing-along pianist. This has become something I love and I really look forward to every event that features this type of music. Examples of events that suit this type of music include Cockney, Wartime, and Peaky Blinders evenings. In contrast to this, I have been hired as a singalong pianist for more formal events such as weddings and Masonic functions.
Please see Singalong Page or visit www.uksingalongpianist.co.uk for more information.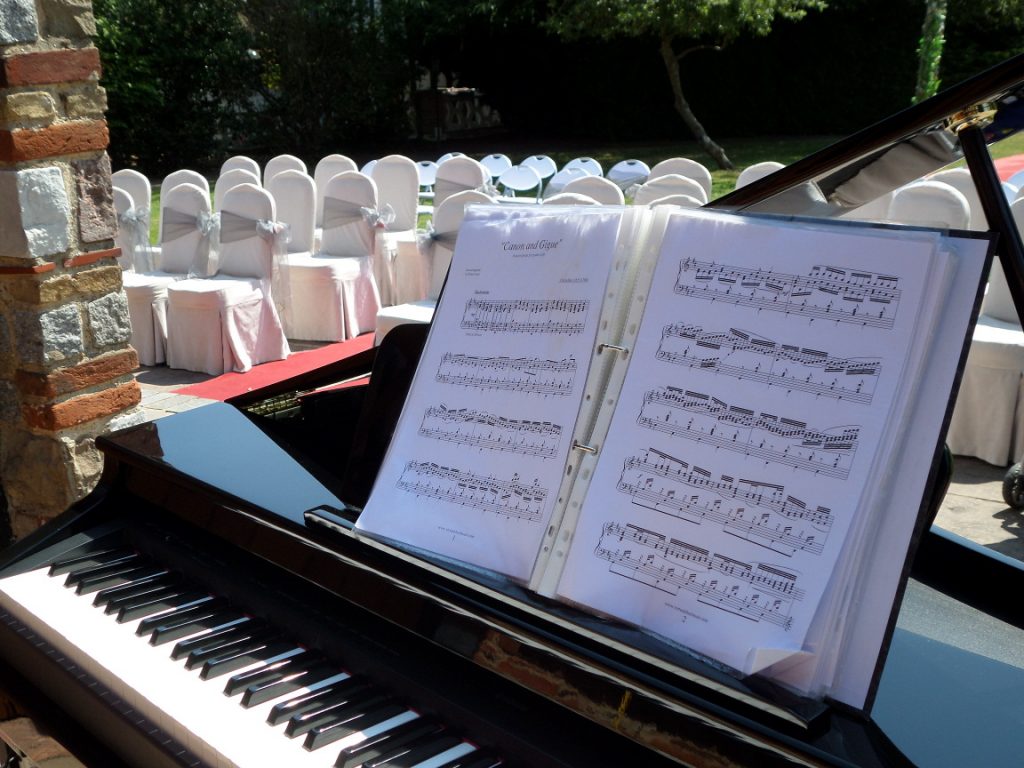 Here are some of the venues in Birmingham here I have performed as a pianist:
Gala Casino Birmingham, 84 Hill Street, Birmingham, West Midlands B5 4AH
Ikon Gallery (The), 1 Oozells Square, Blindleyplace, Birmingham, West Midlands B1 2HS
Singers Hill Synagogue, Ellis Street, Birmingham, West Midlands B1 1HL
The Hyatt Hotel, 2 Bridge Street, Birmingham B1 2JZ
The Jasper Carrott Suite, Birmingham City Football Club, St. Andrews Stadium, Birmingham , West Midlands B9 4 RL
The Jasper Carrott Suite, Birmingham City Football Club, St. Andrews Stadium, Birmingham , West Midlands B9 4 RL
Farthings, Green Lane, Castle Bromwich, Birmingham, West Midlands B36 0AY
Hopwood House, Hopwood, Birmingham, West Midlands B48 7AB
Please visit Eugene's HOME PAGE HERE
Please explore this site by clicking the links on the left of this page.
Available as a jazz pianist/wedding pianist in Birmingham