Performing as a Pianist in Reigate, Surrey
Reigate isn't far from where I live and I do a lot of work as a pianist in the locality. Furthermore, there are many outstanding venues in the area and I've played the piano in many of them. These venues range from stately homes and castles to golf clubs and luxury hotels.
Most of my work in the area is as a wedding pianist. But I do other types of events including corporate events and parties.
From a Solo Pianist to a Jazz Band
Most of my work in the Reigate area is as a solo pianist. Even so, I do get some work for larger line-ups such as duos and trios. Here is the full range of line-ups I have to offer:
Duo – piano and vocals or piano and bass
Trio – piano, bass and vocals or piano, bass and drums
Quartet – piano, bass, drums and vocals or piano, bass, drums and sax
Five Piece Jazz Band – piano, bass, drums, sax and vocals
I can help you choose a line-up that will match both your budget and available space at your chosen venue.
The Music
I love jazz and my jazz piano style has developed through listening to the great jazz pianists of the past. These pianists include Oscar Peterson, Erroll Garner, and Earl Hines. Most of my work is as a wedding pianist and this involves playing many different genres of music. It isn't uncommon for couples to have different styles of music for each part of their wedding day. Luckily, I play many different genres including pop, rock, blues, classical, and singalong.
The sudden demand for me as a singalong pianist has been a recent trend. Furthermore, I must say that I have enjoyed all the work I've done playing this style of music.
Whether I am booked as a solo pianist or in a larger line-up, I try and inject a 'feel-good' quality into the music. I hope that my music adds sparkle to your event without drowning conversation.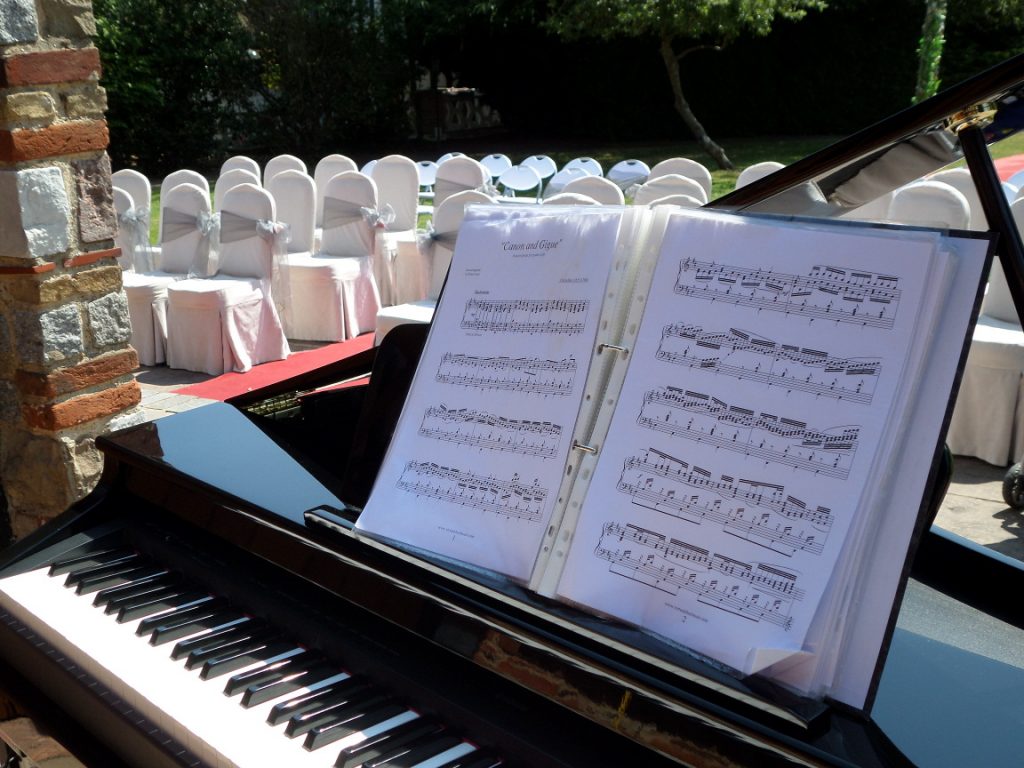 Here are some of the venues in Reigate and Surrey where I have performed as a pianist:
Horsley Towers, Ockham Road South, East Horsley, Guildford, Surrey KT24 6DU
Coulsdon Manor Coulsdon Court Road, Old Coulsdon, Near Croydon, CR5 2LL
Denbies Vineyard London Road, Dorking, Surrey. RH5 6AA
Farnham Castle Conference Centre, Farnham GU9 0AG
Langshott Manor, Horley, Surrey RH6 9LN
Pembroke Lodge, Richmond Park, Richmond TW10 5HX
Coverwood Lakes and Gardens, Coverwood Farm, Peaslake Road, Ewhurst, Cranleigh, Surrey GU6 7NT
Ramster, Chiddingfold, Nr Godalming GU8 4SN
Cranleigh Golf and Leisure Club, Barhatch Lane, Cranleigh, Surrey GU6 7NG
Clandon House, West Clandon, Guildford GU4 7RQ
Please visit my HOME PAGE HERE
Please explore this site by clicking the links on the left of this page.
I am available as a pianist in Reigate and Surrey. I also do weddings, parties, and corporate events.